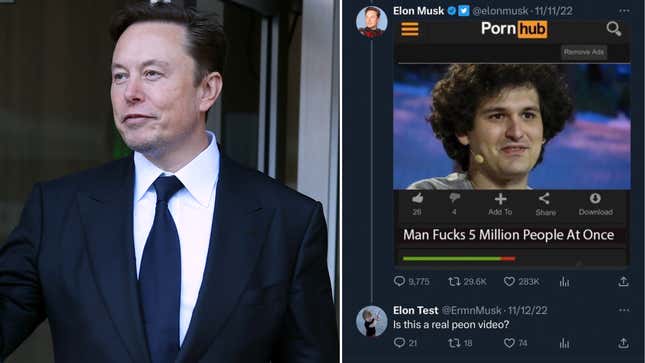 Elon Musk is many things, from simply annoying to objectively bad: a Very Divorced Man, a wealth hoarder, a union buster, an apartheid emerald mine heir, and…a 51-year-old child roleplay enthusiast? That last one is a fairly new revelation, stemming from a credible rumor that emerged on Monday afternoon when the Twitter CEO shared a screenshot of his Twitter account.

Infamously Thin-Skinned Man Joins Twitter's Board
The screenshot was meant to show that he seemingly earns $120,000 per year from subscriptions to his personal account (because apparently, some people looked at his tweets that are algorithmically forced onto our feeds and actually thought to themselves, "I'd like to pay for more of this!"). But more importantly, the screenshot revealed an alternate account linked with his that has a photo of Musk's baby son, X AE A-XII Musk, as its avatar. Insider reported that the alt account appears to be @ErmnMusk.
The account's cringe speech patterns and the circle of users it interacts with on Twitter closely resemble Musk's—with the, err, minor caveat that Musk's alleged alt appears to speak as a small child, yet often tweets out bizarrely sexual comments. An interesting twist for such an account to possibly be linked to a man who called a cave diver who rescued stranded children a "pedo," and pals around with @LibsOfTikTok, an account that peddles myths framing queer people as sexual predators.
The alleged alt specifically appears to be roleplaying as X AE A-XII, who turns 3 next week. Insider noted that the account's last tweet, posted just minutes after Musk shared the screenshot that exposed his alt on Monday, said: "I will finally turn 3 on May 4th!"
Roleplaying as your 2-year-old child on the internet at age 51 is an exceptionally odd but not inherently nefarious pastime. Where Musk's alleged alt gets unsettling is in its interactions with others. Screenshots show @ErmnMusk replying to a tweet with a photo of FTX trader and Caroline Ellison—who has pled guilty to fraud and who allegedly had a romantic relationship with Sam Bankman-Fried. The photo's caption makes a fairly gross sexual reference to Ellison: "[Bankman-Fried] had a net worth of $16B USD and risked it all for this. the grippy must have been unfathomable." @ErmnMusk replies, "I ❤️librarians."
In other replies from @ErmnMusk, Musk (allegedly) asks various trolls and other accounts if they "like Japanese girls" and which nightclubs they frequent. "I wish I was old enough to go to nightclubs. They sound so fun," @ErmnMusk wrote. In another tweet, @ErmnMusk replies to Musk's main account and inquires about porn:
As of early Tuesday afternoon, @ErmnMusk is no longer live. And while Musk hasn't commented on the allegations about the account, its sudden departure feels as close to a confirmation as we might ever get.
I'm not one to judge people for having a burner; I respect that everyone has to find some way or another to spy on an ex on Instagram. But I am going to judge a middle-aged man who appears to spend more time pretending to be his kid than actually spending time with any of his progeny (of which there are nine). And I'm also going to judge someone who makes millions off of popular, viral tweets pushing violent anti-LGBTQ "groomer" bullshit, all while roleplaying as a horny toddler.