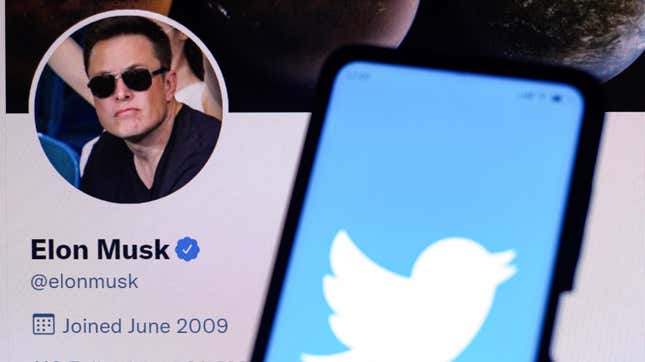 Elon Musk recently offered to sell all of his shares of Tesla and donate the money to the United Nations' World Food Program if they could explain to him exactly how they'd use it to combat world hunger. They did that, but of course, Musk was only kidding; instead he used his billions to purchase Twitter. The platform formally accepted a $44 billion offer from the shit-posting fuccboi billionaire on Monday and revealed in their announcement that Musk would be taking the company private.

Infamously Thin-Skinned Man Joins Twitter's Board
"Free speech is the bedrock of a functioning democracy, and Twitter is the digital town square where matters vital to the future of humanity are debated," said Musk in the release announcing the news. "I also want to make Twitter better than ever by enhancing the product with new features, making the algorithms open source to increase trust, defeating the spam bots, and authenticating all humans. Twitter has tremendous potential – I look forward to working with the company and the community of users to unlock it."
Musk tweeted earlier on Monday that he hopes "even my worst critics remain on Twitter, because that is what free speech means." Thanks bro.
In Twitter's full announcement, they shared that stockholders "will receive $54.20 in cash for each share of Twitter common stock that they own upon closing of the proposed transaction." And Twitter's Independent Board Chair Bret Taylor claimed the board "conducted a thoughtful and comprehensive process to assess Elon's proposal with a deliberate focus on value, certainty, and financing."
As a person not on that board but with eyes and a basic understanding of money, suffice it to say that $44 billion is a dope as fuck payout.
Notably, after the announcement made the rounds on, you guessed it, Twitter, the stock of Musk's Tesla began to plummet:
The deal, which is expected to close at some point in 2022, isn't shocking, considering Musk's actions in recent weeks. Earlier this month, the delinquent father of seven bought nearly 10 percent of Twitter's stock and became their largest shareholder. Mere days later, he casually shared the SEC filing indicating his intentions to buy Twitter in its entirety. Though, in the filing, he only offered a mere $41 billion. Seems as though Twitter got him to sweeten the pot. Congrats to everyone who benefited from this deal and deep apologies to everyone else on the internet.