Ah yes, the old "I thought this was a business meeting, not a sex party" schtick.

An excerpt about the gathering from journalist Emily Chang's forthcoming book Brotopia led an entrepreneur named Paul Biggar to unmask Elon Musk as a person who attended the supposed "sex party" at a venture capitalist's home in June. According the book, some guests allegedly engaged in drug use and sexual behavior in full view of others.
A representative for the Tesla and SpaceX founder told Business Insider on Thursday that Musk had indeed attended, but that he thought it was a "corporate" costume party:
"Elon was at the party for a couple hours and left around 1am after talking with several DFJ-funded entrepreneurs about technology and building companies. His impression was that it was a corporate party with a costume theme, not a 'sex party', and there was no indication that it would become one after he left."
Here's an expert from Chang's book, based on a "Jane Doe"'s account of the party, per BI:
"Doe found herself on the floor with two couples, including a male entrepreneur and his wife. The living room had been blanketed in plush white faux fur and pillows, where, as the evening wore on, several people lay down and started stroking one another, Doe said, in what became a sizable cuddle puddle. One venture capitalist, dressed up as a bunny (it's unclear how this fit into the edge-of-the-earth theme), offered Jane Doe some powder in a plastic bag. It was Molly. 'They said it will just make you feel relaxed and you're going to like being touched,' Doe recounted to me."
G/O Media may get a commission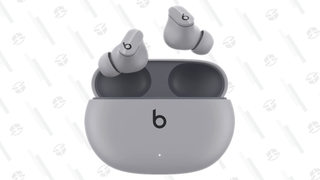 Either this behavior typifies the kind of "corporate" costume party Musk attends, or he left before the alleged group fondling, or it was difficult to make out what was happening from within a bunny suit.
[BI]
---
Ok, so it apparently takes Sophia the robot approximately a month to devise a halfway-decent comeback, but that only makes it creepier!

Of course humans came up with a robot who can hold a grudge and tweet. Of course.
[Time]
---