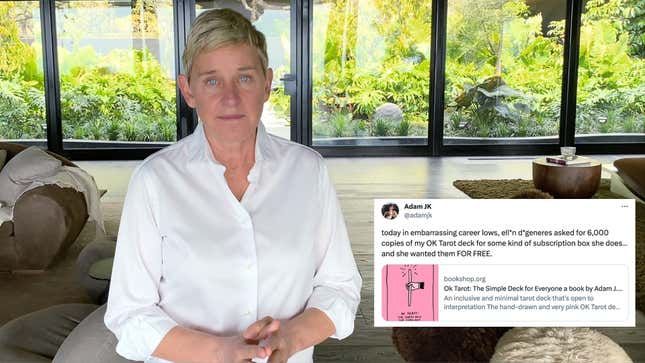 Just when it appeared there'd never be a more captivating, confounding call-out of Ellen DeGeneres than Dakota Johnson's on-air revelation that the daytime TV departee didn't show up to her birthday party, an artist and author has accused Degeneres of asking for 6,000 copies of a tarot card deck he created. Seems innocent enough—except for the fact that she asked to receive all 6,000 for free, the artist said. While you might be thinking, "OK, Ellen could probably benefit from a couple of three-card spreads considering her last few years, but 6,000 feels excessive," hang onto your pentacles, because according to DeGeneres' team, it's simply not true. Let's start from the beginning.
On Monday, Adam J. Kurtz tweeted to his 29.2k followers that DeGeneres had reached out to him for a trove of his tarot decks to be featured in her subscription boxes, called Be Kind: "today in embarrassing career lows, ell*n d*generes asked for 6,000 copies of my OK Tarot deck for some kind of subscription box she does... and she wanted them for free." A moneyed celebrity asking a lesser known and...less-moneyed creative for free shit? Well I never.
According to a description on Bookshop.com, the deck in question, OK Tarot: The Simple Deck For Everyone, is "an inclusive and minimal tarot deck that's open to interpretation." Sounds ideal for a woman who no doubt has a lot to interpret from her life these days!
The price tag ($20.46), I must note, is not steep for a woman who's worth an estimated $380 million. In fact, if she wanted to buy 6,000 copies of the deck herself (for $122,760, pre-tax), I think she could probably dig up that much change from a single dive between her couch cushions.
The responses to Kurtz's tweet have ranged from amused to enraged. "Horrific," one user responded. Kurtz replied: "to be fair she probably doesn't even know but how this can be an entire business model….. also the subscription box is called BE KIND which is too funny." That's right, in case you'd stopped following Degeneres' career after the toxic workplace investigation—or when she likened quarantining in her mansion to jail—she now appears to maintain a quarterly subscription box.
If it seems that a second (third? fourth?) cancellation for Degeneres might be in the cards, a spokesperson for her refuted Kurtz's claim: "This is a lie and not true," they said in a statement to Jezebel. But publicly, Degeneres herself has yet to address Kurtz's accusation.
Kurtz did not immediately respond to Jezebel's request for comment, so for now the matter remains a maddening he-said-she-said situation. The truth, I hope, can only be revealed by one of those 6,000 decks.