Earlier this week, Ellen Degeneres confirmed rumors via Twitter that she booted gospel singer Kim Burrell from Thursday's episode of her show (alongside Pharrell Williams) due to a series of homophobic remarks she had made during a church sermon.

Williams still appeared on the episode, and after performing one of his songs from the film Hidden Figures (with a "different singer"), he and DeGeneres eventually discussed Burrell's absence. "We have to talk about this before we go," she says before giving her full comments:
"You were supposed to do a different song, and you were supposed to do it with a different singer—I didn't know her—her name is Kim Burrell. She made a statement [on Facebook Live]...and said some very not nice things about homosexuals, so I didn't feel like that was good of me to have her on the show, to have a platform."
DeGeneres then passes the baton to Williams, who says in part:
"There's no space—there's no room for any kind of prejudice in 2017 and moving on. She's a fantastic singer, I love her, just like I love everybody else and we all got to get used to that. We all have to get used to everyone's differences and understand that this is a big, gigantic, beautiful, colorful world and it only works with inclusion and empathy. It only works that way...The world is a beautiful place, but it does not work without empathy and inclusion. God is love. This universe is love."
G/O Media may get a commission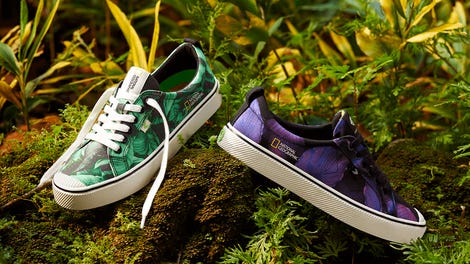 New New New
Cariuma + National Geographic
This is all nice, heartwarming stuff, and receives plenty of applause, but I found myself wishing both Williams and DeGeneres had called Burrell's actions out a little more explicitly.
"Kill 'em with kindness" is typically a good policy, but DeGeneres booted Burrell from her show as a result of her hateful, homophobic remarks, not just "very not nice things [said] about homosexuals." I'm not suggesting that Burrell should have been completely eviscerated by the pair on national television in a sort of viral-ready series of insults, but reducing her comments to "not nice" was a disservice to an audience who may not have been familiar with what she actually said. People need to know what hate speech sounds like, and this overly kind segment didn't offer the kind of enlightenment that Ellen is in a unique position to provide. The booting itself was a great move, but DeGeneres missed an opportunity to make it resonate even more.

I do appreciate the "I didn't know her" she snuck in, though. That was nice.