Elizabeth Warren is a woman who values strong organizational skills, so it would make sense that this applies even to the most banal things in her campaign—including the photos she takes with voters. The New York Times profiled Warren's well-oiled selfie line—correctly noting that the photos, taken by Warren's body woman, are not technically selfies!—in a nifty interactive piece.
But the biggest takeaway here is that Warren really seems to view selfies as strategic, another tool in her toolbox to win over enough voters to make it to the White House. "I have time to do this because I'm not spending hours and days and weeks with big-dollar donors and corporate lobbyists," she said. "I'm not running around the coasts trying to scoop up as much money as I can. That leaves a lot more time for selfies."
The selfie line—which Bernie Sanders recently adopted, too—shows that photo-taking opportunities on the campaign trail have gotten a lot more sophisticated since Hillary Clinton's selfie en masse in 2016.
Warren's commitment to selfies actually could stand to set her apart from the other 2020 Democratic presidential candidates: Pete Buttigieg, for example, had a life-size cutout of himself and his husband for voters to take a picture with, which is just rude.
I would urge Warren to reevaluate some aspects of the selfie line, though—if only just for her safety and the safety of others. Nothing is worth not taking cover when a tornado hits!
Ms. Warren's campaign estimates that she has spent about 107 hours taking pictures in selfie lines since entering the race—the equivalent of working 9-to-5 for 13 days. At one event in Iowa, she continued posing for pictures in the midst of a tornado warning.
G/O Media may get a commission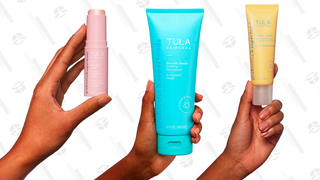 This is marathon, of course, not a sprint. Please pace yourself, Warren; we've all got a long way to go.