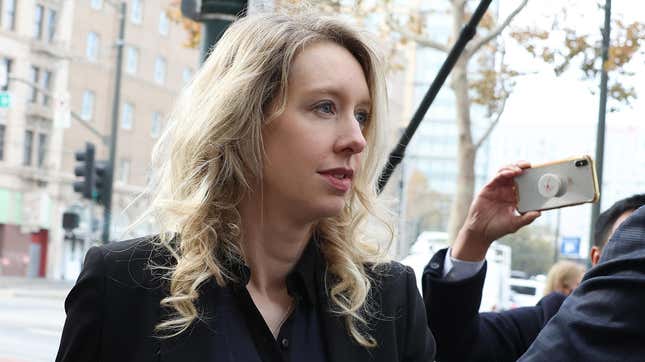 Convicted fraudster Elizabeth Holmes has given birth to her second child, according to court documents filed by her defense team last week, and she's petitioning to remain out of prison as she appeals her conviction. Holmes had her first baby in July 2021, mere weeks before the start of her criminal trial. The exact birth date of her second remains unclear.

Last year, Holmes, who was on trial for 11 counts of fraud, was convicted of three counts of wire fraud and one count of conspiracy to commit wire fraud. She faced these charges for deceiving investors as CEO of Theranos, a start-up that falsely claimed its technology could perform hundreds of medical tests with a few drops of someone's blood, all while investors poured millions into the company. Holmes was sentenced to 11 years in prison last November, after her legal team revealed her second pregnancy—conceived shortly after she was convicted in January 2022—and implored the judge to take her pregnancy into consideration. The California judge ordered Holmes to report to prison on April 27 this year to give the former Theranos CEO enough time to give birth. Notably, it's an accommodation that many other pregnant people who face prison sentences and don't share Holmes' privileged background are routinely denied. Roughly 2,000 babies are born to incarcerated pregnant people annually.
Now, following the birth of Holmes' second child, she is again invoking her parenthood to delay serving her prison sentence. "Ms. Holmes has deep ties to the community: She is the mother of two very young children; she has close relationships with family and friends, many of who submitted letters at sentencing vouching for her good character; and she volunteers with a rape crisis and counseling organization," a motion filed by Holmes' legal team states.
G/O Media may get a commission
25% Off
Coleman SaluSpa Inflatable Hot Tub Spa
Her lawyers have further claimed that Holmes should be permitted to stay in her home because she isn't a flight-risk—even as prosecutors argued in January that she is, indeed, a flight-risk, and claimed she had a one-way flight to Mexico booked for the end of January 2022 shortly after she was convicted last year. If a judge doesn't approve Holmes' request, she's set to begin her prison sentence next month.
Since being indicted in 2018 and convicted last year, Holmes has yet to spend a day in prison and has lived in her Woodside, California, mansion with partner Billy Evans and their now two young children. Holmes has reportedly said "pretty people like me" don't go to jail, per the Wall Street Journal.
Holmes' rise to prominence in the early 2010s—dubbing her the original "girlboss"—and subsequent downfall have been a flash point in popular culture, raising all kinds of questions about how she deceived so many investors and whether she was held to different standards as a, err, "girlboss." The fascination and intrigue surrounding Holmes' case have only been further fueled by her own eccentric personality and conspicuously manipulative choices—like, say, having two babies back to back in the throes of a high-profile criminal trial.