Actor Eliza Dushku published an op-ed in the Boston Globe today describing her harrowing experience working on the CBS procedural Bull that eventually lead to her dismissal and a $9.5 million settlement.

The New York Times unearthed the details of the arrangement last week. According to the piece, Dushku was sexually harassed by co-star Michael Weatherly, who consistently and repeatedly made inappropriate remarks at her expense. Once, the report reads, he "said in front of the cast and crew that he would bend her over his leg and spank her." On another occasion, he mentioned wanting to have a threesome with her, which lead other members of the cast and crew to make similarly crude comments. She did not give a statement to the paper, allegedly because the settlement prohibited her from doing so.

"This is not a 'he-said/she-said' case. Weatherly's behavior was captured on CBS's own videotape recordings," she writes in the intro of her op-ed. "I declined to be interviewed for that [New York Times] piece because I wanted to honor the terms of my settlement with the network. I was under the impression that Weatherly and [Bull producer Glenn Gordon] Caron would also not respond per our settlement. Instead, all commented to the Times in what amounted to more deflection, denial, and spin."
She describes Weatherly's ongoing attempts at gaslighting:
In explaining his bad behavior, Weatherly, who plays Dr. Bull, claimed I didn't get his attempt at humor. That's how a perpetrator rationalizes when he is caught. For the record, I grew up in Boston with three older brothers and have generally been considered a tomboy. I made a name for myself playing a badass vampire slayer turned tough LA cheerleader; I have worked with numerous leading men, including Robert DeNiro, Leonardo DiCaprio, even CBS's own David Boreanaz. I can handle a locker room. I have been on Howard Stern and was hired by Kevin Smith for a film where I wore a black leather cat suit and played a member of an international diamond-thief-gang-ring. I do not want to hear that I have a "humor deficit" or can't take a joke. I did not over-react. I took a job and, because I did not want to be harassed, I was fired.
G/O Media may get a commission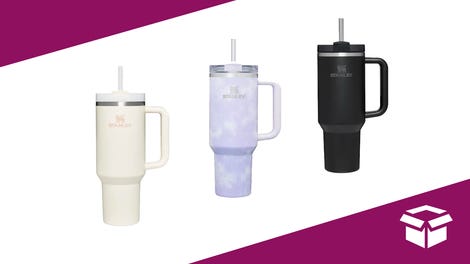 Up to 45% off
Stanley Cup Sale
Dushku goes into incredible detail of the daily harassment she faced by Weatherly, "The tapes show his offer to take me to his 'rape van, filled with all sorts of lubricants and long phallic things,'" she writes. "Once, he leaned into my body and inhaled, smelling me in a dramatic swoon. As was caught on tape, after I flubbed a line, he shouted in my face, 'I will take you over my knee and spank you like a little girl.'"
She also explains that Weatherly would brag about his relationship with disgraced CBS exec Les Moonves "as a threat" and yell the phrase "yellow card" to mock on-set harassment training. She believes that had "he not been caught on tape," he "would have gotten away with it."
When Dushku attempted to diffuse the situation before taking legal action by asking Weatherly to be an "ally" on-set, she says he responded with, "Eliza, no one respects women more than I do," claiming to be "too respectful of women."
Read the full op-ed here.