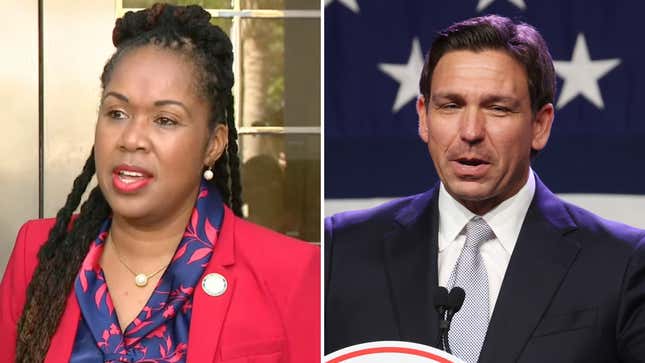 "I am your duly elected state attorney for the ninth Judicial Circuit, and nothing done by a weak dictator can change that," Monique Worrell, the Democratic state prosecutor for Orange and Osceola counties in central Florida, defiantly told media outside her Orlando office on Wednesday after Gov. Ron DeSantis (R-Fla.) brazenly suspended her and replaced her with his own conservative pick from the Federalist Society.
DeSantis announced at a press conference Wednesday morning that he was removing the elected official from office—who won in 2020 with 67 percent of the vote—and installing someone in her place, basically because he didn't like which cases she was choosing to pursue. "Prosecutors do have a certain amount of discretion about which cases to bring and which not, but with what this state attorney has done is abuse that discretion and it effectively nullifies certain laws in the state of Florida," DeSantis told media.
At the press conference, Polk County Sheriff Grady Judd pandered to those of us with Extremely Online Brain Disease, using a "This Is Fine" meme to illustrate how Worrell has apparently gone soft on crime. "None of this would have been possible if we didn't have a governor, Gov. DeSantis, who said 'I'm going to do what's right,'" Judd told media. (The long and gross history of comparing Black people to animals was apparently not considered.)
Worrell is the second elected state prosecutor to be dismissed by DeSantis. Just over a year ago, the governor ousted Andrew Warren, a two-time elected prosecutor in Tampa, after Warren said he wouldn't seek criminal charges against abortion providers or patients, nor against doctors who provide trans affirming healthcare. Warren signed a letter, joining 90 elected prosecutors from 31 states, territories and the District of Columbia, to say they won't prosecute abortion following the overturning of Roe v. Wade.
At the time, DeSantis claimed he was stepping to to uphold democracy—even though his decision upended the will of the people of Hillsborough County, Fla. "Our government is a government of laws, not a government of men," DeSantis told reporters last August. Warren told the Tallahassee Democrat that DeSantis's dismissal of Worrell "another illegal and unconstitutional attack on democracy by a small, scared man who is desperate to save his political career."
Worrell is to be replaced by Andrew Bain, a Federalist Society member and Orange County judge. Bain was originally appointed to the county bench in 2020 before working as a prosecutor for seven years, per the Orlando Sentinel.
The Democrat reported that DeSantis's office has looked at Worrell's conduct since at least February. The general counsel demanded recorded relating to the case of a 19-year-old accused of murdering three people.
Worrell said she will fight the suspension and even plans to run for re-election. She succeeded the state's first ever elected Black state attorney.

"This is about the governor wanting to control the politics across this state," Worrell told the Democrat. "And quite frankly, it's dangerous because this is a democracy, not a dictatorship."