20-year-old college student Aliaa Magda Elmahdy has sparked outrage in Egypt by posting naked photos of herself to her blog as a protest against the country's conservative culture. She says she's upholding the spirit of the revolution, but in addition to conservative Islamists, she's angered liberals who believe the scandal will hurt them during the country's parliamentary election next week, the first since President Hosni Mubarak was ousted.
In Egypt most Muslim women wear veils, and even if they don't, it's rare to see uncovered arms and legs in public. Many Egyptians say they're deeply offended by what Elmahdy has done, yet somehow her NSFW blog "A Rebel's Diary" has been viewed 1.5 million times since she published the post earlier this week. The New York Times reports that the blog contains a written explanaton of the protest:
"Try nude models who worked in Fine Art Faculties in the early 1970s, hide all art books and smash naked archaeological statues," read the statement, alluding to some recent protests staged here by ultra-conservative Islamists known as Salafis. "Then take off your clothes and look at yourselves in the mirror, then burn your body that you so despise to get rid of your sexual complexes forever, before subjecting me to your bigoted insults or denying my freedom of expression."
According to the Associated Press, she also says that the photos are "screams against a society of violence, racism, sexism, sexual harassment and hypocrisy."
Elmahdy is being condemned by both the right and left in Egypt because conservative groups are trying to convince voters that liberals will usher in an era of immorality. Emad Gad, a parliamentary candidate from the Egyptian Social Democratic Party says,
"Many movements in Egypt, particularly Islamist movements, are trying to benefit. They say, 'We have to protect our society from things like this, and if the liberals win then this woman will become a model for all Egyptian women.'"
G/O Media may get a commission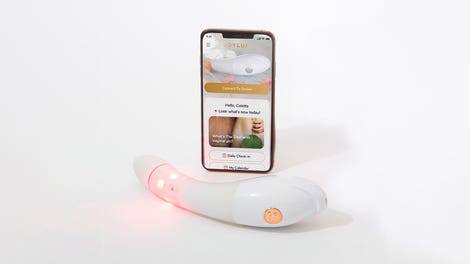 $50 Off
Joylux vFit Gold Device
When rumors circulated that Elmahdy was involved in the April 6th Youth Movement, liberal activists scrambled to put out the message that she wasn't one of them. A spokesman said, "the movement does not have any members who engage in such behavior."
Salafis would like to see more Saudi Arabi-style gender discrimination in Egypt, and have taken extreme actions recently to promote the idea that women shouldn't be in the public eye. In their campaign ads, photos of female candidates have been replaced by flowers, statues featuring nude women have been covered, and Salafi clerics have refused to appear with female TV hosts. Women's rights activist Nehad Abou el-Qomsan complained about the group, who she says, "keep adding layers to cover up the women and deny their existence," but she simultaneously criticized Elmahdy's actions "because posing nude is a form of body abuse."
As The Daily News Egypt notes, some commenters believe the massive attacks on Elmahdy are hypocritical, since the news that 18 female protesters were subjected to "virginity tests" by military authorities was met with apathy. But the difference between the two cases is clear. With Elmahdy, we have a woman using her body to protest the country's stance on gender and sexuality. The "virginity test" incident is far less shocking because it involves men violating women's bodies for sexual pleasure and to scare them into keeping their political beliefs to themselves.
Nude Blogger Riles Egyptians Of All Stripes [NYT]
A Rebel's Diary
Egyptian Activist Poses Nude, Inciting Furor [AP]
Activist Posts Herself Nude, Sparks Outrage [Daily News Egypt]
Earlier: Woman Sues Egyptian Military For Administering 'Virginity Tests'