Over the last several days, Edward Snowden's girlfriend's dead blog has suddenly sprung back to life, with two cryptic blog entries accompanied by photos of the acrobat-blogger-dancer. What does it mean?
Lindsay Mills faced a flurry of attention in 2013, when her boyfriend became the source of one of the biggest intelligence leaks in US history. In the aftermath of Snowden's revelations, the media mined her (amazing) blog L's Journey for photos of the couple, information about their life together in Hawaii, and a truly incredible collection of self portraits of Lindsey Mills in various costumes, including one where she toplessly clutches a stuffed turtle to her breasts. Truly, a woman who was living her best life.
After Snowden fled his life in Hawaii to Hong Kong, Mills herself vanished from the public eye for over a year. Footage shown in the documentary Citizenfour, however, revealed that Mills wasn't abandoned at all. In fact, she and Snowden were still together, and she visits him in Russia regularly. She even took to the stage at the Oscars as Citizenfour filmmaker Laura Poitras accepted her award for Best Documentary.
Mills's return to cyberspace consists, so far, of two tidbits. One, dated March 8, consists of a photo of her in front of the home she and Snowden shared in Hawaii accompanied with the caption "oh HI!" The other, more contemplative entry dated yesterday, features a shot of Mills sitting on a canyon ledge with the words,
Canyon of misinterpreted judgment before me. My polkadots, never one to back down from a challenge, have softened to a muted hue. Fearful to illuminate in an over-saturated habitat. I prop myself on flexible support that bends too easily on shaky ground. Avalanching down the rock wall into green valleys. That give a glimmer of support for growth. But open on a landscape of relentless rehashing that hamper my expressive dots from flourishing. While darker clouds ever loom overhead. As a reminder of the difficulties in traversing this unknown expanse.

G/O Media may get a commission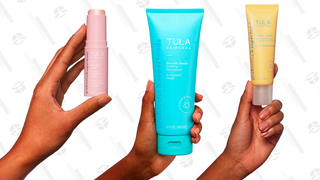 Canyon of Misinterpreted Judgment was by far my least favorite Nancy Drew book.
Does this mean that the best spy girlfriend blog in history is returning to cyberspace for good? Will we, the denizens of the web, be privy once again to the adventures of L and her mysterious boyfriend E?
One can only hope.
Images via L's Journey