After a much-needed, restful, absence (for me), Ed Sheeran is back on the scene and he still hasn't done anything with this goddamn hair. He has, however, released a new album, because I guess he's still doing that.

This time away has allowed me some perspective on young Ed. Of course, I still wish he'd go away, but as you might have heard during my appearance on Jezebel's DirtCast, I even went so far as to pay him a compliment.
Now, don't get too crazy, all I said was that he's not terrible at writing song lyrics. In fact, he penned one of my favorite songs off Justin Bieber's last album, "Love Yourself." I'm adult enough to admit that. Of course, just because you can write good songs doesn't mean you should sing them, which is my problem with Ed.
When I first heard he newest single, "Shape Of You," my thought process went something like this: Who is this? Oh my god, is this...?? Yikes. Hm, is white dancehall music a thing now? Jeez, how much better would this song be if it were being sung by somebody else?
G/O Media may get a commission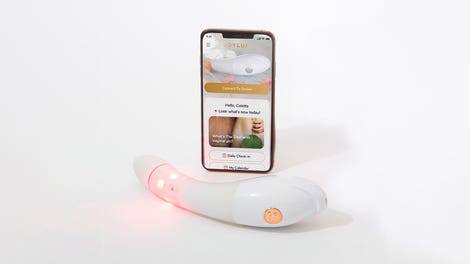 $50 Off
Joylux vFit Gold Device
Which gave me the idea—would all of Ed Sheeran's songs be better if they were sung by another artist? Probably! So let's indulge that thought experiment. I listened to his new album that apparently is titled Divide, but in fact is just the division symbol, which I'm pretty sure translates to "divided by" not just "divide."
Before you think I've gone soft, I should note that I really only listened to about 30 seconds of each song to determine which artist would have done a better job. I'm not insane, guys. So here you have it: all the people who would have sung Ed Sheeran's songs.
---
"Eraser"
There are some rap-esque vocal spasms happening here that makes me irrationally angry. Starting off on such an offensive note made it difficult to even move forward with this task, as I deeply feared for what lay ahead. Nevertheless, I plowed forward because we all construct our own versions of hell.
This should have been sung by: Zayn Malik
---
"Castle On the Hill"
This has sort of a sweeping pop vibe that requires sweeping pop vocals.
This should have been sung by: Alessia Cara
---
"Dive"
Ed sounds like he's trying to be all grown on this song, but he is 26 and looks like he rolled his arms around in a kindergardener's finger painting project. Who better to step in than a grown-ass man with a grown-ass man voice?
This should have been sung by: Anthony Hamilton
---
"Shape Of You"
When I saw recently that this is the number one song in the country, I briefly thought: Wow Kara, you're out of the loop.
Then I remembered I am not a teen or someone who thought Adele deserved that Grammy for making a third album that sounds exactly like her first two.
Julianne dubbed this song, "seventh-generation wannabe Popcaan" which as perfect and as deep a reference as you're going to get. Still, Justin Bieber has been pretending to be black for a long time now, so I think he'd handle this much better.
This should have been sung by: Justin Bieber
---
"Perfect"
I'm not much of a country music person, but this certainly sounds like a country song to me. This needs somebody with a stronger voice and there are only like six male country artists I can identify so I'm going to go with the one who seems the least like Ed Sheeran. (Though I will obviously accept being wrong on that assumption.)
This should have been sung by: Sam Hunt
---
"Galway Girl"
This song opens with the lyrics:
She played the fiddle in an Irish band/ But she fell in love with an English man
No offense two incredibly-white white people, but I cannot imagine a setup to a song or story that I could possibly care less about. Sorry!
That being said, this sounds exactly like a One Direction song, no?
This should have been sung by: One Direction
---
"Happier"
The two songs don't necessarily sound much alike, but for some reason this reminded me of "Close" by Nick Jonas and then I remembered Nick Jonas is a slightly better singer than Ed Sheeran, so here we are.
This should have been sung by: Nick Jonas
---
"New Man"
Includes the line:
He's got his eyebrows plucked and his arsehole bleached
Not further commentary.
This should have been sung by: No one
---
"Hearts Don't Break Around Here"
This sounds like a particularly sad country song and when I think of country singers who always look like they're on the verge of tears, I look no further than Nicole Kidman's husband.
This should have been sung by: Keith Urban
---
"What Do I Know?"
Ugh, god who cares?
This should have been sung by: Gavin DeGraw circa 2009
---
"How Would You Feel (Peaen)"
Honestly, I found myself completely stumped here so I turned to the brilliant minds of Jezebel for some assistance:
This should have been sung by: Does it matter?
---
"Supermarket Flowers"
At first I thought this was about his mother, but later learned it's actually about his grandmother which is different but kind of the same. That's nice I guess but maybe keep this one to yourself next time? Sing it to Gran on her birthday instead?
While we're on the subject, here is a VASTLY better song about matriarchs.
This should have been sung by: No one
---
"Barcelona"
I mean, what the fucking hell?
This should have been sung by: A parrot in Zootopia Part 2: The European Adventure
---
"Bibia Be Ye Ye"
Is he aiming for a gig writing on the next big animated movie so he can wiggle his way into an easy route to an Oscar? Sure seems like it, but you're gonna have to do better than this, bud!
This should have been sung by: Whoever is voicing the next animated Dreamworks blockbuster
---
"Nancy Mulligan"
I'm going to need some actual Irish people to weigh in on this. Is this an accurate representation of your culture? Is this acceptable to you.
This should have been sung by: Not my lane
---
"Save Myself"
I am bored. This took longer than I thought it would.
This should have been sung by: Rufus Wainwright