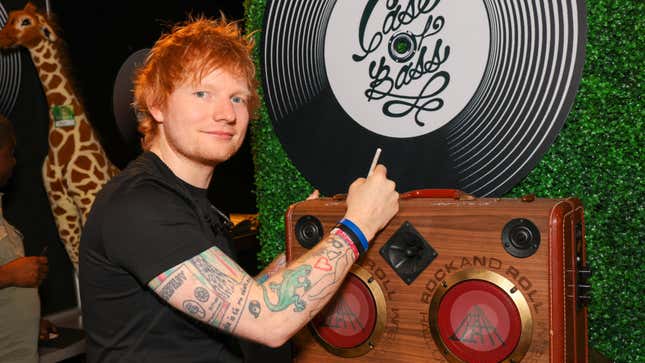 Ed Sheeran is effectively critic-proof. He's a superstar whose albums tend to receive middling reviews that have seemingly zero impact on their commercial performance. He is the kind of performer who has a rather lukewarm Metacritic score of 62 (on a scale of 1 to 100) but the second most-streamed song on Spotify ("Shape of You," with 3.4 billion streams), as well as two other songs in that all-time list's Top 20 ("Perfect" at No. 11 and "Thinking Out Loud" at No. 18). The guy is making a mint no matter what people who are paid to express their supposedly refined taste say.

Taylor Lautner Doesn't Even Remember Saying 'Bella! Where the Hell Have You Been Loca?'
And so, Sheeran could have not talked about his stance on critics—presumably the thorn in the side of an otherwise charmed artistic existence—and no one would have been the wiser. But talk he did. In a recent interview with Rolling Stone, which didn't make the cover story for which it was conducted but was included in a kind of bonus-feature blog of quotes from the cutting room floor, it is revealed that Sheeran had this to say about music critics:
Why do you need to read a review? Listen to it. It's freely available! Make up your own mind. I would never read an album review and go, "I'm not gonna listen to that now."
And so, Sheeran joins the growing list of unfathomably popular contemporary musicians like Lizzo, Kanye West, and Chance the Rapper who have decried a form of expression that may ruffle their feathers but has left no mark on their ability to express themselves freely and get paid handsomely for doing so. Funny how entitled celebrities don't like criticism. What a coincidence that couldn't possibly be informed by bias!
The thing is that criticism is just a formalized version of a very natural response to art. People experience something and then they talk about it. I know it's annoying to pour your (capitalist) heart and time into something only to have some people say mean things about it, but that is the price you pay for appealing to the masses. You know this up front. To make public any sentiment to the contrary is to effectively tell people to shut up and listen, which is authoritarian, not to mention stupid, because they won't anyway.
Criticism comes in many forms, some overt and some implied. When a rather skilled and judicious-minded journalist like Brian Hiatt writes a 6,000+ word profile of you, and his parent publication Rolling Stone, a titan in music journalism, publishes it, the message sent is: You are really interesting and worth listening to. That's criticism. When Jay-Z turns down a request to appear on your song "Shape of You," as was revealed in that cutting-room-floor post, because, "I don't think the song needs a rap verse," that's criticism. When you interpolate TLC's "No Scrubs" into your song to give it an R&B feel, that's criticism, suggesting both that "No Scrubs" is good and that your song wasn't R&B enough. When you then release that song without crediting the writers of "No Scrubs" (Kevin "She'kspere" Briggs, Kandi Burruss, Tameka "Tiny" Cottle, and Lisa Lopes), that is criticism suggesting that they aren't important enough to be credited. When you retroactively credit them after many people have noticed the similarities between your song and the one released nearly 20 years before it, you're probably being galvanized by criticism.
Criticism is practically everywhere including in art itself, as A.O. Scott argued in his 2016 book, Better Living Through Criticism. As Daniel Mendelsohn, another formidable critic, explained in his New York Times review of Scott's book:
Criticism, far from sapping the vitality of art, is instead what supplies its lifeblood, . . . not an enemy from which art must be defended, but rather another name — the proper name — for the defense of art itself." An ingenious element of Scott's argument is that art, like criticism, is more reactive — more "critical" — than many who idolize "creativity" would acknowledge: Manet is "conducting a passionate argument with Titian and Velázquez," "Les Demoiselles d'Avignon" is a dialogue with African masks and statuary. Both art and criticism originate in "the urge to master and add something to reality"; both are characterized by a "transformation of awe into understanding.
(That Scott recently abandoned his post as Times film critic is also criticism, both of the form but also of the state of cinema in 2023, as he explained at length in a recent episode of The Daily.)
Criticism exists for more than just longwinded recommendations. It can provide pleasure in its own right—I loved both Ottessa Moshfegh's 2022 novel Lapvona and Andrea Long Chu's brutal evisceration of it. Those two pieces are at odds, but the world is big enough for both. It's also big enough for all the music that Sheeran points out is "freely available," but people have only so much time, which makes finding the good stuff a challenge with which professionals can assist. Hence the modern critic, who can shed light on more obscure, less algorithmically friendly artists. Said critic may also, by extension or more explicitly, suggest something they feel is a better use of listeners' time than Sheeran's work, but that's just part of the picture. Optimally, eloquent and rigorous culture writers contribute more to the cultural fabric than Sheeran and lesser-known artists could with their music alone.
Sheeran speaks from the position of someone who will be heard whenever he deigns to speak, at least in the immediate future. The majority of people in his line of work are not so lucky.