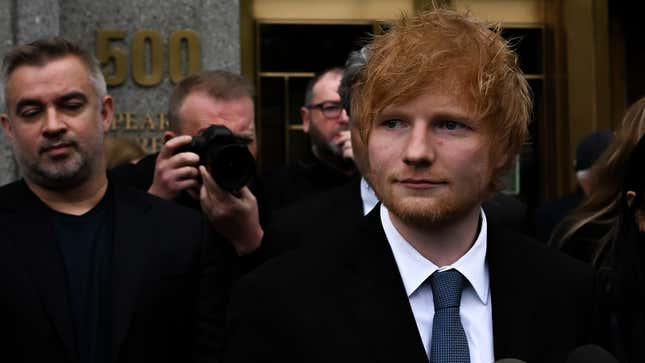 Many of those on the creative side of the music industry undoubtedly heaved a sigh of relief last week when a federal jury ruled in Ed Sheeran's favor in a copyright case concerning his 2014 smash "Thinking Out Loud." Sheeran had been sued by the family of Ed Townsend, over what they alleged were copyright-violating similarities between "Thinking" and Marvin Gaye's 1973 hit "Let's Get It On," which Townsend co-wrote with Gaye. The plaintiffs alleged the chord progression in Sheeran's song was a rip-off of that in Gaye's song. (Sheeran performing a medley of "Thinking" and "Let's Get It On" in concert was framed as a "smoking gun" by the plaintiff's lawyers.) Sheeran's defense included him demonstrating chord changes by playing his guitar on the stand.
The Cast of 'Jersey Shore: Family Vacation' Think All Roadtrips Are Shitshows
In an interview that aired Sunday on CBS Sunday Morning but was filmed before the trial, Sheeran defended the inevitability of such similarities. Sunday Morning correspondent Seth Doane interviewed Sheeran and noted that his team did not want him discussing the case against him. He did anyway.
"There's like four chords that get used in pop songs," said Sheeran. "And if you just think mathematically the likelihood of this song having the same chords as this song—there's multiple, multiple songs—it's all the same four chords. Some of them are like A-B-C…" At that point, he looked off camera, apparently to a member of his team who was telling him to cease discussing his lawsuit. To that, Sheeran replied, "Dude, I'm a musician, I can fucking speak about this." He continued:
You are going to get this with every single pop song from now on. Unless it just stops, which I don't think it does because it's a big-money business to take things to court. But like you can only get caught out if you've done something wrong, and I have not done something wrong. I used four chords that are very common cords to use.
There are only so many chords common to Western pop music and they are, in often identical configurations, the building blocks of the form. This point underscored by Sheeran's defense when jurors were shown a video of the Australian music-comedy group Axis of Awesome running through a bunch of songs with the same progression, according to a Variety interview with Sheeran's lawyer Ilene Farkas. The attorney did not specify which Axis of Awesome video was shown in court (there are many), but one below finds the trio plowing through some three dozen songs all based on the same chords, including iconic hits like Toto's "Africa," Lady Gaga's "Poker Face," a-ha's "Take on Me," the Beatles' "Let It Be," Natalie Imbruglia's "Torn," and Journey's "Don't Stop Believin'."
Obviously, these are all very different songs because of what is built on top of the chords. Pop music is its own language, and all languages have fundamentals that orient them as such. There's a difference between working within a form and copying directly, and the jury found that Sheeran did the former and not the latter. Additionally, commercial art tends to be in conversation with what came before it—influence is pervasive and, in many ways, unquantifiable. A victory like this allows pop to remain pop. It's a win for the artist and a refreshing bit of sanity in the wake of the 2013 case Pharrell Williams v. Bridgeport Music, in which Williams and his "Blurred Lines" co-writer and performer Robin Thicke were sued over the similarity of that track to another Gaye song, 1977's "Got to Give It Up." That copyright claim was even more nebulous than the one against Sheeran described above, as it concerned the song's "feel" or groove. The court ultimately decided in favor of Gaye's estate, and Williams and Thicke were ordered to pay about $5 million and a percentage of future royalties.
On Thursday, after his legal victory, Sheeran addressed press outside of the court:
"I am obviously very happy with the outcome of the case, and it looks like I'm not having to retire from my day job after all," he said. "But at the same time, I am unbelievably frustrated that baseless claims like this are allowed to go to court at all. We've spent the last eight years talking about two songs with dramatically different lyrics, melodies and four chords which are also different and used by songwriters every day, all over the world. These chords are common building blocks which were used to create music long before 'Let's Get It On' was written and will be used to make music long after we are all gone."
Regarding Townsend estate's motivation, Sheeran said later on SiriusXM, "There was nothing malicious in it, it just was something that I think spun out of control and just ended up...you know, no one talked to each other, basically, and now we're in this situation." Losing the case, Sheeran said, would have taken the joy out of songwriting and prompted him to stop writing songs "for a while."
As detailed in his recent Disney+ limited docuseries, Ed Sheeran: The Sum of It All, this is the second recent copyright victory for Sheeran. Last year, he won a case in England's "High Court" in which it was alleged that he plagiarized his 2017 hit "Shape of You."