Ed Sheeran, who is currently awaiting his fate in the Tower of London, violated royal protocol when he touched Prince Charles's arm on Thursday while being awarded one of Britain's highest honors, the Member of the Order of the British Empire (MBE) for his services to music and charity. May God have mercy on his soul.
Whilst there are no "obligatory rules," Buckingham Palace provides a curt set of recommendations as to the "traditional forms":
For men this is a neck bow (from the head only) whilst women do a small curtsy. Other people prefer simply to shake hands in the usual way.
In the usual way, which one understands to mean minimal palm-to-palm contact, not thrusting your treasonous fingers all over the Royal Highness's arm like a freaking plebeian.
G/O Media may get a commission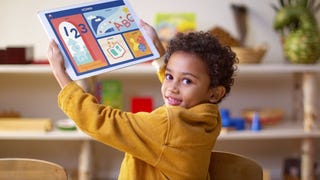 30-Day Free Trial
Homer Learn & Grow Program
He also humiliated the entire kingdom last year when he said that Princess Beatrice cut his face with a sword when joke-knighting him, and he later had to backtrack and say she "allegedly" cut him with a sword.
High marks, however, for not crying/sweating/pooping himself like most civilians would do.
---
Here is everything you need to know about Meghan Markle today:
Are you not entertained???
---
Charlie Sheen is suing the National Enquirer for publishing secondhand allegations that he raped Corey Haim while Haim was 13. Former actor Dominick Brascia told the Enquirer that Haim had confided this to him before his death at age 38, believed to have been related to a drug overdose.
---
Kylie Jenner has a Christmas tree fit for an 80-foot-tall woman who is definitely having a baby girl.
---
A digital billboard displaying Ivanka Trump's "special place in hell" comment drove around Pensacola, Florida while her father stumped there for Roy Moore. [Washington Post]

Two years after Snoop Dogg called Caitlyn Jenner a "science project," Caitlyn Jenner and Snoop Dogg appear to have had a moment. [Instagram]
Lindsay Lohan has a new friend. [Page Six]