Austin Jones, a YouTube star styled as a combination of circa-2005 "Hey There Delilah" side-swept pixie cut and skinny jeans which scream "sensitive soul"–also famed for his YouTube acapella covers of awesome bands like My Chemical Romance, Panic! At the Disco, and Fall Out Boy–whose music is described on MySpace as "earnest, emo-influenced melodic pop music"–who is also a 24-year-old male–was arrested yesterday for two counts of child pornography. He allegedly asked two female fans of around 14 years old to send him nude videos, the Chicago Sun-Times reports. He was arrested in Chicago on Monday shortly after returning from a concert in Poland.
One of the girls claimed that he'd asked her to "expose herself," telling him that she was "only 14." Another sent eight videos "exposing her genitals." Jones at first claimed that he'd only asked for "twerking videos," but once arrested, he admitted to "receiving videos from the victims, and he admitted it was for sexual pleasure," reports the Chicago Sun-Times.
Jones actually solicited "twerking videos" as far back as 2015, which is proven in his definitely-not-emo-inspired butt-flapping "twerking video" demonstration from a fan accusation here (4:07).
The accusations inspired an emo-inspired YouTube confessional, claiming that nothing went further than asking for "twerking videos," and that the fan scandal "sent [him] down a path that was pretty scary."
I got lost in it. I would read every little comment. Every little person telling me to kill myself, every person telling me that life wasn't worth living for me anymore. I'm a pretty insecure person, to where negative comments like that really impact me…
I began researching different suicide methods.
He then weaves a life story of death, loss, and absentee parenting which set him on a downward spiral. Sorry not sorry. But also, sorry about the twerking stuff.
G/O Media may get a commission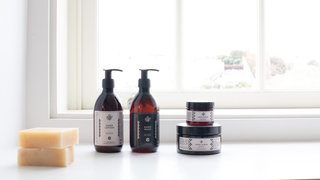 Exfoliate and Hydrate
The Handmade Soap Company
Well lessons learned. The commenters are on it.