Nothing says "classy and mature" quite like a reality show about Tim Tebow, which is why E! Entertainment, the channel that brought us a show about a former Olympic athlete living out a lucid nightmare among personifications of the letter "K," is using the New York Jets quarterback as the cornerstone in its new campaign to class itself up. That along with an austere new black and white logo and, what else, a talent show is supposed to help turn E! into the thinking reality TV-watcher's channel.
The Los Angeles Times chronicles "network turnaround specialist" Bonnie Hammer's effort to make E! over into a more sophisticated (or at least less trashy) channel. E!, which this week launched a new talent show about finding opening acts for Rod Stewart and Brad Paisley called Opening Act, will have a new lineup that includes serious-eyebrowed newscasts and a show about Kevin and Danielle Jonas called Married to Jonas. Oh, and every E! anchor will wear wire-rimmed glasses and use the adjective "nuanced" at least three-times per newscast.
This transformation began when E!'s parent company, Comcast, took over NBCUniversal, putting E!, Style, and G4 in a Step By Step situation with USA, Bravo, and Syfy. Comcast executive Steve Burke brought in Hammer to revamp E! and shed its Kardashian-tainted image in favor of something a little (but not much) more elevated. E! is already extremely profitable — it has exceeded earnings of $1 billion recently, with an estimated profit of nearly $300 million last year on revenue that topped $700 million. The network, however, wants to spread its wings beyond the inbred Hollywood social scene and recognizes the fact that, however popular shows like Keeping Up with the Kardashians are now, they have a limited shelf-life in the pop culture emporium.
"From the get-go," explained Hammer, "it was, 'How do we get E! recognized for the value that it currently has, and then expand the channel's focus beyond Hollywood into New York, Miami, Nashville, London and Paris - covering pop culture trends in music, fashion, politics and sports?" How indeed. With shows featuring Playmates and topical late-night fare like E! News and Chelsea Lately, E! can only appeal to a limited group of advertisers. It's also seen networks such as rival Bravo (grr, Bravo) step onto its Hollywood turf.
Hammer, and newly-named president of E! Suzanne Kolb, are aiming to be proactive in broadening E!'s appeal, especially in the wake of the Kardashian marriage fiasco, which, though it attracted a huge audience of 10 million, lasted only 72 days and subsequently alienated a lot of viewers. Kolb said, "It was not the greatest period of time for the Kardashians or for E! in terms of negative feedback," adding, we should assume un-ironically, "you cannot be in the reality business and then be upset when reality happens."
G/O Media may get a commission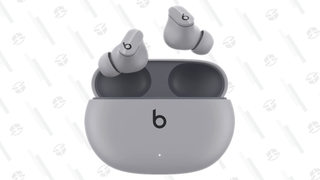 At 21-years-old, E! has officially inaugurated its entry into legal-drinking adulthood by trading its bright red logo for a black and white one, because nothing says "old and dull" quite like black and white. "To me," Hammer explained, "black and white screams classy. It's like a tuxedo, a patent leather stiletto or a well-polished man's shoe." Yup, look for E! to be keeping it super-classy when it chronicles Tim Tebow's marriage in three years to a black and white hologram of June Cleaver.
Sassy, trashy E! Entertainment aspires to be more classy [LA Times]