Two women have accused Dustin Hoffman of sexually assaulting them while working on the 1987 film Ishtar, and a third woman says the actor exposed himself to her in a hotel room when she was a teenager.
The three women spoke to Variety, each describing harrowing encounters with the two-time Oscar winner. One, Cori Thomas, told the publication she was friends with Hoffman's daughter in high school, and in 1980, when she was 16, he invited her to his hotel room after taking the two girls out for dinner. At the end of the meal Hoffman sent his daughter home, and invited Thomas back to the hotel to wait for her parents. Thomas recalled him going into the shower while she waited in his room. That was when he exposed himself to her, she said.
"He came out of the bathroom with a towel at first wrapped around him, which he dropped," Thomas said. "He was standing there naked. I think I almost collapsed, actually. It was the first time I had ever seen a naked man. I was mortified. I didn't know what to do." Thomas said Hoffman made her massage his feet, and repeatedly made sexual comments toward her. "I didn't know that I could say no, so I did it. And he kept telling me, 'I'm naked. Do you want to see?'" she said.
Melissa Kester told Variety Hoffman sexually assaulted her in the control room on the set of Ishtar, while Hoffman worked on vocal tracks for the film. Kester's boyfriend at the time was working on the movie's soundtrack, and invited her to the studio a few times to watch Hoffman record. Kester said Hoffman showed what appeared to be professional interest in her and asked her for her phone number, but on one visit, he grabbed her and assaulted her when her boyfriend wasn't looking.
"[H]e literally just stuck his fingers down my pants," Kester said. "He put his fingers inside me. And the thing I feel most bad about is I didn't know what to do. I just stood there. I just froze in the situation like 'Oh my god, what is happening?' It's shocking when that happens to you."
G/O Media may get a commission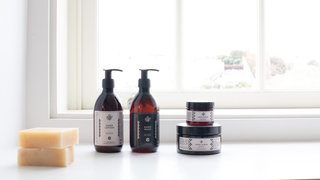 Exfoliate and Hydrate
The Handmade Soap Company
A third woman who wished to remain anonymous also told Variety Hoffman assaulted her on the set of Ishtar. The woman said she was an extra in a nightclub scene, and that Hoffman offered to drive her home from the wrap party. Though there were other people in his car, she said, Hoffman still assaulted her. "There are people inches from us," she said. "And he just took his hand and stuck his fingers right up inside of me. I didn't know what to do. He's smiling at me. I was frozen. I was outside of my body." The woman said she had sex with Hoffman later that night, but when asked if it was non-consensual, she said, "I don't know."
At least three women have previously accused Hoffman of sexually harassing them, prompting John Oliver to grill him on the allegations at a Q&A during a screening of Wag the Dog at the 92nd St. Y earlier this month. Hoffman refused to confront the charges and later claimed Oliver put him "on display" during what turned into a rather tense debate.
[Variety]
---
Lenny Kravitz says he still doesn't wear underwear, having reportedly not learned anything from that time his junk went viral after that famed wardrobe malfunction at a 2015 show in Stockholm.
"Do I have any underwear on now? No. Thus the problems that I incur," he told Mr. Porter.
Live free or die, as they say.
[People]
---