The women of The View are using various platforms to weigh in on Rachel Dolezal, with both Raven-Symone and Whoopi Goldberg supporting Dolezal's choice to adopt being black and comparing her situation to Caitlyn Jenner and the transgender experience.

"I have to believe she feels the way she feels just like Caitlyn Jenner feels like she's a woman," Goldberg said on The View. "...If someone feels that they're this, they have every right to pursue it."
Raven-Symone, stopping by US Weekly, expressed the same sentiment:
"I agree with Whoopi [Goldberg]. It's reminiscent of Caitlyn Jenner and many other transgender people... Hey, do it. I know a lot of people in other cultures want to be in other cultures... straighten their hair... fill in their lips. Everyone's trying to find their way to fit in."
Wish I had a good way to wrap this item up, but I wasted too much time sighing exasperatedly while writing this and ran out of time.
---
G/O Media may get a commission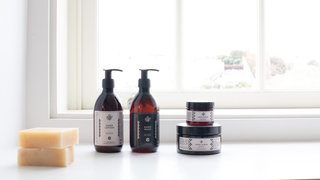 Exfoliate and Hydrate
The Handmade Soap Company
Would it surprise you to learn that Tilda Swinton was so disappointed with the educational options available to her teenage kids that she just opened up a secondary school of her own in Scotland? Of course it wouldn't.

"There's no grading, no testing at all," Swinton says of the Drumduan Upper School. "My children are now 17, and they will go through this school without any tests at any time, so it's incredibly art-based, practical learning. For example, they learn their science by building a Canadian canoe, or making a knife, or caramelizing onions. And they're all happy 17-year-olds. I can't believe it—happy and inspired."
Can adults go, too? [The Guardian]
---
Conrad Hilton, the brother of Paris and Nicky, has been sentenced to community service, three years probation, and is expected to pay $5,000 in fines as the result of a violent outburst—which included threatening to kill a flight attendant, smoking weed in the bathroom, and calling his fellow passengers "fucking peasants"—on a transatlantic flight last summer. Yesterday in court, Hilton pled guilty to "simple assault."
Oh, no. The exasperated sighing is back. [Gossip Cop]

---
---
Contact the author at madeleine@jezebel.com.

Images via Getty