A Duke University student has sued the college for expelling him after he was found in violation of the school's rules about sexual misconduct. He says the expulsion has made it impossible for him to start his job at a Wall Street firm, which was offered upon assumption he would graduate from the college.
According to multiple local news sources, senior Lewis McLeod was found guilty of sexual misconduct by a Duke disciplinary committee after he allegedly raped a freshman classmate in the fall. As reported by the Indy Week in a thorough piece about the case, some of the details about the incident were flushed out through the many text messages McLeod's accuser sent after their exchange:
Her memory of the night was cloudy; she did not agree to intercourse; he disrobed her; she begged him to stop and pushed him away; she told him to stop several times; that "I told him to stop and that I would call the police"; and that "he raped me and told me not to cry."

After McLeod fell asleep, the freshman sent a text to her ex-boyfriend saying, "I need you." She continued sending several text messages to at least four people. Among them: "He just said to stop crying," "I said to stop but he wouldn't," and "I don't wanna look like a slut." In another text to her ex-boyfriend, she said, "I'm so sorry."
The next day, her best friend sent her a text: "Did he actually rape you." The freshman replied, "It's like hard to explain I'll tell you the story in person." In another text she said, "It hurts soo bad like there's no way it was consensual."
It appears that after the Durham, North Carolina police decided not to go forward with her case and McLeod's accuser took it to the Office of Student Conduct, the Duke administration was pretty firm with McLeod. They gave the two a no-contact order and did not allow him to come to campus except for class. Eventually, they found him in violation of sexual misconduct.
McLeod refutes many of his accuser's claims. As WRAL reported, McLeod says their sex was consensual and that he stopped having sex with her when she "got emotional" and started to cry. McLeod's lawyers say that he was discriminated against during his hearing:
Throughout the hearing, members of the panel and the Office of Student Conduct made decisions that prevented Mr. McLeod from presenting his side of the story, denied him his right to respond to allegations against him and denied him his right to a fair and impartial hearing.
G/O Media may get a commission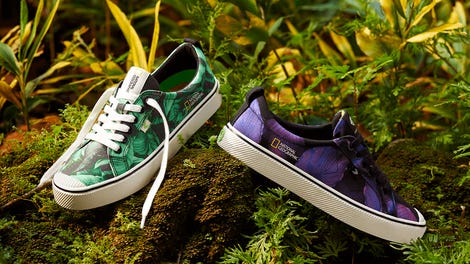 New New New
Cariuma + National Geographic
McLeod's chance at winning his case hinges on the change Duke made to their Student Conduct policy in the fall. It's a change that many schools are making around the country (or a change that many students around the country are pushing their schools to make): to expel students who are found guilty of rape according to their school's disciplinary committees, regardless of whether they've been found guilty in a court of law (or even if a police report has been filed). According to Indy Week, a technicality regarding his expulsion could help McLeod with his case: though Duke changed their sexual assault policy, they didn't change it in official written school rulebook. However:
Administrators claim that such "internal practices" are different than official policies, and don't have to be explicitly written into the rulebook, which contains the university's code of conduct.
A few weeks ago, the Duke Chronicle reported that the school planned to make the sanction guidelines for sexual misconduct available to all students, not just those on the disciplinary hearing panels.
In the coming weeks, a judge will decide whether Duke has to give McLeod his diploma. If not, McLeod (who is from Australia and whose Visa has expired) will have to leave the country, without his job and without a degree from Duke.
Image via Duke Photography/Duke University