Paris Hilton has released a sample of her song with Lil Wayne plus accompanying music video, and oh my god it is a musical experience unlike any other. It's mostly the young heiress slithering around in a shallow pool while croaking about how she feels tipsy, like the most fun and drunkest and richest adolescent frog in the entire swamp.
However, this song will likely be remembered by future generations for Lil Wayne's groundbreaking Butt Rap Interlude. Here are the lyrics:
"I'm fucked up ... I can't tell you what's what.
All she know is suck, fuck.
I walked up to a big butt, and asked her ass, "Butt, what?" ...
(TMZ says it's "and asked her ass but what," but I like to think that the rapper is addressing Paris Hilton's bottom with curiosity. Maybe he is wondering, "Butt, what is this song?" or "Butt, what is wrong with Paris Hilton?" or "Butt, what happened in my life to lead me to this situation?"). [TMZ]
---
G/O Media may get a commission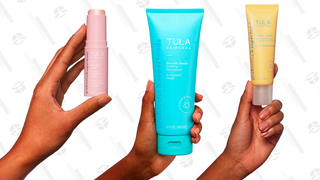 Surprisingly hairy eternal children The Jonas Brothers are on the cover of OUT magazine, a truly perfect moment in boy band history. Says Joe Jonas (the one with the eyebrows), "[Being in 'Out'] is a moment for us for sure. We keep saying, 'Well, it's about time.'"
In the interview, the Brothers Jonas are like, "We have a lot of gay friends and gay fans, but we are not gay." Those lusciously-coiffed nesting dolls are really accepting of all lifestyles. And so the circle of life continues. [Popcrush, OUT]
---
*NSYNC tweeted some Obamacare advice earlier this week and some for their (FORMER) fans are livid about it. Something we can all learn from this: it's very easy to turn *NSYNC references into bitter tweets about unfollowing someone for having a Liberal Agenda. E.g.: "LIBERAL SCUM #byebyebye"; "I used to like you — how sad that you're now liberal #puppets"; "It's tearing up my heart that everyone should have access to affordable care"; etc.
Who do you think wrote the tweet? My money is on Fatone. [Cosmo]
---