Jennifer Aniston, actress and newlywed, didn't bring her husband to the premiere of She's Funny That Way Wednesday night in Los Angeles, but she did bring what might be the most beautiful piece of jewelry the world has seen since a dying Rose Dawson selfishly threw the Heart of the Ocean into the depths of the Atlantic.
Prepare yourself, because here come the pics.
On the other side of this clutch...is history.
BAM. Look's like somebody went to Jared! (*Cough* I'm looking at you, Justin!) Let's zoom in.
How are your corneas? Fine? Good. Let's check it out from a different angle.
Simply stunning.
Gotcha! That's her right hand. Let's go back to that legendary left one again.
The photo is a little overexposed, but that band of gold is the opposite of underwhelming!
It looks lovely from afar, does it not? Like, you see that ring from across the room and think, "That hand belongs to a woman who's happy." Now chaaaaaange positions on me.
New position, new position.
OK, let's do one more.
You all doing OK? Are we good to move on? If you need to scroll back up and that symbol of Jennifer's love, be my guest. I'll wait.
---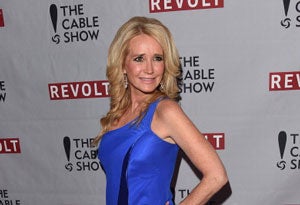 Kim Richards has had a rough summer, but it looks like things might finally start changing for the better. "RadarOnline.com has exclusively learned that she is currently getting medical care after being subjected to a 5150 hold." Richards checked in to an "inpatient facility in Orange County" after her 72-hour hold, and her family has reportedly "been very supportive." Says a source, "They told her she had to do it or she was cut off from all of them financially. It is tough love."
---
On a brighter note, here's Kelly Clarkson announcing her pregnancy mid-concert:
Everyone's so excited for her.
[EW]
---
---
Contact the author at bobby@jezebel.com.
Images via Getty.