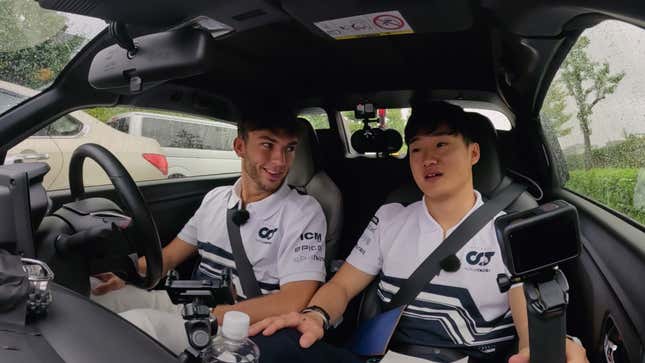 Yuki Tsunoda knows you're thirsting after him, and he couldn't be happier about it.
Ana Gasteyer Satirizes the Girl Boss in 'American Auto'
The 22-year-old race car driver for AlphaTauri is about to embark on his third season in Formula One, and the landscape is looking shinier than ever. As one of the youngest competitors on the grid, and part of the next generation of drivers finding unthinkable fame in the sport, Tsunoda told me in an interview earlier this month that he's able to measure F1's popularity in America by how many fans (and not just women) are commenting on his Instagram photos these days. The onslaught of love—or objectification, depending on how you classify it—has boosted Tsunoda's confidence so much that he said he "was able to do a catwalk" for the first time.
That evening, we had gathered for a New York Fashion Week event that doubled as a collection debut and livery launch for F1 team Scuderia AlphaTauri. The evening's star models were the team's drivers, adorably foul-mouthed Tsunoda and polished newcomer Nyck de Vries, and the team's hulking 2023 race car. Tsunoda did, in fact, crush his catwalk.
G/O Media may get a commission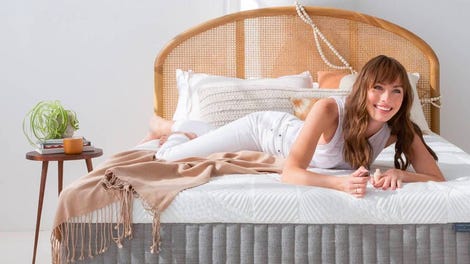 Sleep Sale
Sleep Sale - Brentwood Home
That glitzy institutions F1 and NYFW go together like fur coats and old money is a surprise to no one. But I'd argue that this deliberate push—not only into the American market for a traditionally eurocentric sport, but also into artistic realms unimaginable five years ago—would not be happening without the existence of Netflix's Drive to Survive, the fifth season of which is set to drop Friday, February 24 to coincide with the start of the 2023 racing season. "There's Drive to Survive, there's fashion," Tsunoda, a budding fashion icon in his own right, said of the sport's expanding role in popular culture. "Ten years ago, every driver was walking into the paddock in their Formula One kit, which is fine, but from my perspective, it's a bit boring, isn't it? Showing up in the paddock with all kinds of outfits allows drivers to share their own characteristics."
Like many other Americans, I started watching the reality docu-series during quarantine, and was stunned at how quickly my interest morphed from lovingly objectifying the drivers and engaging with fellow fangirls to becoming personally and professionally invested in a sport that conflicted with my ideological values on nearly every level. My enduring adoration is nonsensical: F1 is an environmental disaster waiting to happen and a perpetrator of sportswashing, all while it reeks of unapologetic nepotism both on the track and behind the pit wall.

Most of all, as I reported for Jezebel last year, F1 is a place where racial and gender diversity go to die. Despite the fact that drivers of any gender can race in F1, the track is teeming with 23-year-old men animated by boyish charm. F1 also relies on tired machismo tropes: brave men kissing their wives and girlfriends goodbye as they suit up for combat, preparing for bloodshed, ready to take out the enemy with brute force. During an episode in the upcoming season about Ferrari's power struggle, driver Carlos Sainz tips his chin down in a Darth Vader-like manner and warns, "I'm Spanish. I'm gonna go full Latino mode."
Women like F1 pundit and motorsports marketing consultant Toni Cowan-Brown have been watching Drive to Survive with a critical eye for years; Cowan-Brown conducted a Bechdel test for Season 4, finding that women were on screen talking for just 15 minutes of the six-hour season. But Season 5 was the first time I sat down to look for what the show was missing, rather than absentmindedly inhaling the high-octane fumes that have always been there. Cassie Bennitt, one of Drive to Survive's showrunners, said last year that production does "struggle with diversity, because we're filming a microcosm." And while she vowed to improve onscreen representation year over year, Season 5's outlook for women in racing remains bleak as ever.
While we do get to hear repeatedly from BBC F1 presenter Jennie Gow during confessional-style interviews, and McLaren's communications director Sophie Ogg makes several cameos, those are the only bright spots from a gender diversity standpoint. The F1 WAGs, who have spawned thriving fandoms of their own, are shown sparingly, save for Red Bull team principal Christian Horner's wife, Geri Halliwell (yes, Ginger Spice). Meanwhile, driver Lando Norris' (now ex) girlfriend is shown for a split second at the top of the season.
The W Series, an all-women's series that races on the same weekends as F1, is not mentioned once, save for a brief appearance by Caitlyn Jenner wearing a Jenner Racing t-shirt; the show does not indicate that Jenner Racing is part of the W Series. Nor does the F1 Driver's Academy, a new F1-affiliated series that was announced in November and aims to kickstart the careers of young women drivers for the 2023 season, make an appearance. Shots of women working in the paddock prove to be rare specimens.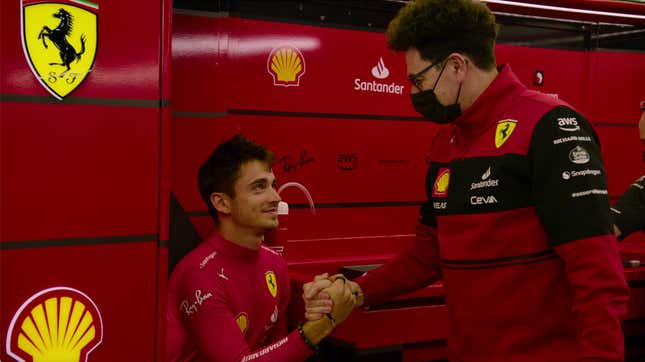 "From the past, it's probably been more of a manly dominated industry. I think now that's slowly changing with time, as women get more equal opportunities and also have more interest in racing cars," de Vries told me at the Fashion Week event, in reference to the excitement surrounding the Driver's Academy and W Series. "I think we need to welcome [women drivers] and give them the same opportunity as men have…give them a chance to develop the same way as we do through karting."
Right now, the very future of the W Series is in limbo (though it was finally able to help launch three-time champion Jamie Chadwick into Indy NXT), and whether the Driver's Academy will successfully get women onto the F1 grid remains to be seen. Its existence alone is promising. Young Academy drivers like Abbi Pulling and Bianca Bustamante now have a legitimate platform and a chance to be seen by F1 fans at this year's Austin Grand Prix, while women like driver/presenter Naomi Schiff, presenter/creator Lissie Mackintosh, and fan community Two Girls 1 Formula are getting more access to paddocks, teams, and audiences at home. Drivers like de Vries, who's about to embark on his first full season in an F1 race car, also inspire hope that the men coming up through the ranks will be more actively invested in hyping women drivers—following in the activist footsteps of Lewis Hamilton and Sebastian Vettel.
"I think the world and the environment is probably ready for it. Hopefully, [women drivers will] beat us all and work their way into Formula One," de Vries said. He's already rooting for Luna Fluxa, a 12-year-old driver in Mercedes' Academy program.
But even if male drivers wanted to speak out in a meaningful way about the sport's lack of gender diversity, a new ban on political statements from motorsports governing body the FIA somewhat prevents them from doing so, or at least on the race track. The original rule, which was introduced in December, barred drivers from making "political, religious, and personal statements" without prior consent. Following an uproar from fans and the drivers (Hamilton said he would not cooperate with the ban), the FIA clarified this month that drivers are free to "express their views on any political, religious, or personal matter before, during, and after" the race—"in their own space, and outside the scope of the international competition." The FIA, in general, has been notoriously curmudgeonly when it comes to matters of social change.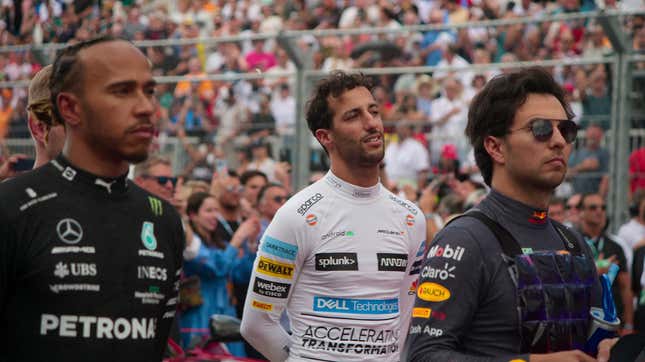 "It doesn't make sense why they would limit us from saying something, because each driver has different passions… You cannot just focus on racing. It's not all about that," Tsunoda said. "When racing, there are always frustrations in every moment, which is why we, but particularly me, are shouting into the radio… Fans know how much stress the drivers are under, and they want to know what we're thinking. We're not idiots, so it's not like we're saying bad things all the time. We're also not actors in a movie, and we definitely would like to have more flexibility to say something, rather than saying nothing."
Tsunoda's right: Young American fans came to the sport not because of stats, but because of the drivers' personalities and the joy that arises in getting to know them, parasocially, off the track. It's the superstardom of drivers like Daniel Ricciardo, as showcased by Drive to Survive, that has made the sport part of the cultural fabric—why Paris Hilton, Serena and Venus Williams, David Beckham, Shawn Mendes, Brad Pitt, and more are showing up in paddocks. The Drive to Survive format is so successful that Netflix has even attempted to recreate the magic with golf, tennis, and soon, the NFL.
Perhaps Drive to Survive has lost a bit of its gleam content-wise, and it certainly needs help to go the distance for this new contingent of fans. But by the end of the last episode of Season 5, which included an in memoriam of sorts to Ricciardo's career, I found myself wiping away tears. Only now can I see how I've grown alongside these frenetic, sometimes idiotic, but mostly lovable men who participate in a sport I'd never heard of prior to 2020. Frankly, I don't think I'd be me without this silly show about race cars and the drivers that bring them to life.