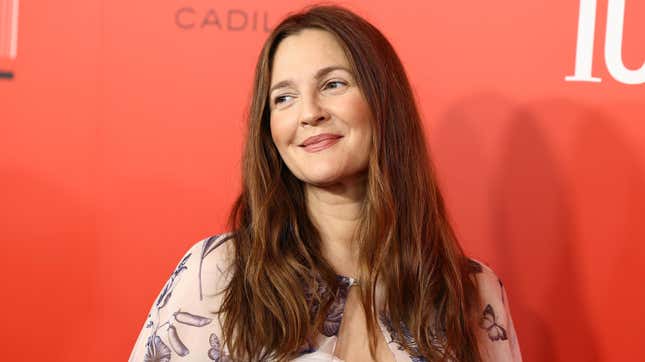 A man named Chad Michael Busto was arrested late Thursday night, days after rushing the stage of a venue where Drew Barrymore was interviewing singer Renee Rapp. Just two days after that incident, Busto was detained by police on Wednesday for riding a bicycle through a neighborhood in the Hamptons asking residents for Barrymore's address, which he ultimately seems to have found, per TMZ. He was released by police shortly after being detained—only to be arrested the following evening. Per a press release by the Southampton Town Police, Busto was booked on Thursday night in relation to a misdemeanor charge of stalking in the fourth degree and was held in jail overnight.

On Monday night, just as Barrymore and Rapp were seated on stage at New York City's 92nd Street Y theater for their event, video shows Busto calling out Barrymore's name, briskly emerging from the audience, and walking to the stage. When Barrymore responds to her name being called, Busto says, "You know who I am. I need to see you at some point while I'm in New York." Rapp then stands and orients herself in front of Barrymore, puts an arm around her and walks her off the stage, as security guards confront Busto and take him away.
Since the Monday incident, which has gone viral on social media as many have praised how Rapp handled the situation and helped protect Barrymore, numerous disturbing details have emerged about Busto. Records obtained by the Santa Monica Daily Press show a man with his name being arrested for crimes ranging from trespassing to indecent exposure in a number of states. The Daily Beast reports that Busto appears to have a history of stalking Amber Heard as well. Per the outlet, a user named "C. Michael Busto" has repeatedly proposed to Heard on social media. He also seems to have joined a fan forum for the actress, but was banned for "sexual harassment," "threats," and "stalking" targeting Heard's other fans. A man of the same name was also once physically removed from a Walmart for confronting and disturbing customers about his proposals to Heard.
Puzzlingly, despite these fairly alarming behaviors, law enforcement took no action against Busto after the first Monday night incident, and by Wednesday he'd made it to Barrymore's Hamptons farmhouse. Fortunately, Barrymore and Rapp are safe, and their Monday night event went on as planned after Busto was removed. "I have a new definition of your sexiness," Barrymore told Rapp when they returned to the stage. "It's that level of protectiveness."