Big boobs, the fashion mags tell us, are "in." Thanks. For plenty of us, they're in vogue 24/7, 365...and dressing around breasts? Not so easy. Herewith, we get to the heart of the matter!
"I just accepted my breasts as a great accessory to every outfit." That's Jennifer Love Hewitt, and while the sentiment's terrific, in practice it's a bit harder when said accessories aren't, strictly speaking, fitting into the outfit in question. "Big bosoms are the new must-have accessory" for fall, says fashion-crank Liz Jones, but while that's all very well, as Christina Hendricks herself could tell you, the genuine article, when not optional, requires a lot of support and no small amount of tailoring.
The good news? (Besides the, um, must-have accessories, that is.) You're not alone, and not only are there more resources available nowadays, but there are communities devoted to exactly these issues: a great one to keep in mind is BigBustSupprt.com, which covers everything from wedding gowns to supportive sleepwear. All of these are excellent means of finding specific items, getting other women's takes on brands and sizing, or just venting at the difficulty of not finding a shirt that doesn't need to be tailored everywhere else.
As with all these things, there are a lot of "rules" for things not to do: horizontal stripes, high necks, tight tops, tight bottoms, anything big or baggy, large purses - I've seen all of these proscribed by one maven or another. We're more concerned with what to do - for best fit and maximum comfort. The rest is up to you! The following are less negotiable!
Bras: This is something we've discussed before, but it bears repeating: for the big-busted woman, it's not just about shape and lift, but comfort and health, too. We've talked about fit and sizing before, but let me repeat: if you can get a professional fitting, do it. (BiggerBras.com, for obvious reasons, is a terrific resource.)
G/O Media may get a commission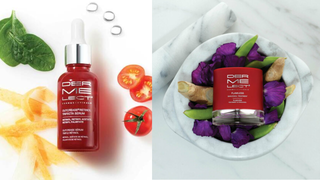 Save $19
Retinol Renewal Kit
Bathing Suits can be daunting, but there are great options out there! A few things to look for?
Underwire
Halter-necks (not necessary, but supportive and flattering)
V-necks
Bravissimo, which specializes in sizes D-K, makes a line of swimwear, some of which is very cute indeed. Meanwhile, the Swim Outlet has a whole section devoted to "D cup and up" whose bikini selection, especially, rates a look. And if you like a retro look, although it's not explicitly big-bust, Esther Williams' classic line comes in shapes just made to flatter a full chest.
Clothes:
As if it needs saying, find a good tailor and make him your friend. Your blouses will thank you. If you need to get jackets and shirts that are too big everywhere else, a tailor or drycleaner can take them in, shorten the sleeves, add a judicious dart. Alternatively, if a top is gapping, it's easy to have an unobtrusive snap put in on the button placket.
If, like many of us, you're bigger on top, a wrap dress can be a good thing to have around: yeah, you may need a camisole, but at least - in a stretchy fabric - you can wear one size for a change. In general with dresses, jerseys can be great - but so can a structured fabric that holds you in (although this may require some tailoring.) Again, an open neckline - scoop, round, V or sweetheart - can be very flattering.
In general, an open neckline can indeed draw attention away from the bust if that's your goal; something vertical, like a pendant, good-sized necklace or scarf, can also break up a line visually.
The shirt question is really eternal. While a lot can be done with camisoles, with double-stick tape, with a judicious snap, with tailoring, there is another option. It's called Carissa Rose, and it's amazing. It's a site totally devoted to custom tailoring for big-busted women. While they make a couple of styles of perfect, classic dresses, nothing is more welcome than their line of shirts - all of which are way more reasonably priced than you're braced for right now.
Whatever shirt you buy, make sure it's sufficiently long, because your bust shortens the length. Look for an open neckline and structured fabric. Wrap styles look nice. The common wisdom is to avoid high necks; I say try any such top with a long pendant before ruling it out - but really, just stick with what's comfortable.
What Not to Wear Stacey's fixation on a lock-and-load, single-breasted jacket that corrals "the girls" is not misplaced; such an item can indeed make one feel smart and trim. Those who wish to draw attention away from the breasts are advised to avoid embellishment and go for a minimal collar. A jacket that hits at the hip is always a safe bet. Try to find one with some shape and a deep neckline. And when in doubt, you don't need to button it. I've found great jackets at H&M and even Forever21, so while you can spend a lot, you don't need to. Wherever you buy it, take it to a tailor or dry-cleaner: they can pull it in at the waist or move a button and generally work wonders.
Sweaters in a thinner knit may feel less bulky than a big, chunky cable-knit or similar.
And yes, there's a reason Joan Holloway looks amazing: styles of other eras were more geared to a full bust. So take stock and take inspiration.
This is the kind of subject where word-of-mouth is really invaluable; if I'd listened to my AA mother, I'd still be swimming in giant-sized turtlenecks and wearing the wrong bra size. So spill: what are your tricks and tips, your resources and well-kept secrets? How do you keep your breasts from being the center of attention all the time — and showing them off when you feel like it? Inquiring minds — and aching backs — want to know!


For all of our handy Dress Code guides, go here.