The single best tip I ever heard about dressing? This is it.
It's not rocket-surgery, as David Lee Roth might say, but like much great advice, it's beautiful in its simplicity: know your era. I've talked about this before, but I think it deserves a Dress Code chapter all its own. Now, I'm not talking about going totally retro, a la Dita Von Teese — just using this trick as a shortcut to knowing what shapes to go for. Let's put it this way: in different eras, different shapes were in vogue, and at different times almost every body-type has been an ideal. So why not embrace the era that embraced you? We live in a time when almost every silhouette is represented somewhere in the marketplace, so why not take full advantage?
I love the streamlined looks of the 20s and sleek mod silhouettes, but those eras would have had me strapping down my boobs and ironing my hair. The shapes of the 40s, 50s and 70s are way better for my curves — and my curls. Another friend wrote me, "Sometimes I feel unwomanly because I'm so "boyish" — but then I look at images from the 20s and see how fabulous everyone looked, and am reminded that I can do my own kind of glam."
Like anything, feel free to disregard this — dressing is about self-expression and rule-breaking, and if one era expresses who you are — or just how you're feeling on a particular day — go for it! But this is an easy shortcut to wading through the sometimes overwhelming morass of shapes and styles out there — not to mention, thrift shopping or eBay. This is hardly a course in 20th Century fashion, just a few Cliff's Notes on eras and shapes. I recommend watching movies and looking at pictures and seeing what you like, then deciding how to adapt that to your life. Again, this is just a sketchy outline — but I've included a few eBay search tips that are proven winners (however unlikely.)

Gibson Girl:
In fairness, I only know one person who rocks flat-out Anne of Avonlea chic, but it looks cool: this was the era of the S-curve and the tiny waist, and for anyone with the sand to tackle it, not a look one sees everyday.
G/O Media may get a commission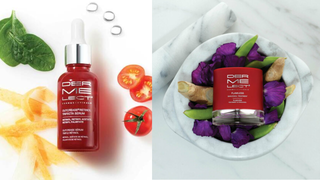 Save $19
Retinol Renewal Kit
What to look for: blouses, long, high-waisted skirts, nipped-in jackets, leg o' mutton sleeves.
eBay keywords: "shirtwaist" "Gibson Girl" "Victorian" "romantic"
Inspiration: Anne of Avonlea (1987), A Room With a View




1920s
Everyone knows the flapper with cigarette holder and string of pearls, but 20s daywear was smart, clean and cool. Yes, this was the golden era of "boyish" shapes and straight lines, and not an easy silhouette for everyone. But the basic shapes can look totally fresh and not at all costumey. Or, you know, go totally Gatsby!
What to look for: Oxford shoes, drop waists, long cardigans.
eBay keywords: "drop-waist" "20s-style" "coco chanel" "jersey" "flapper"
Inspiration: The House of Elliott, The Great Gatsby


1930s
The era of the bias-cut made for some stunning eveningwear, sure (think any screwball comedy) but the daywear was as smart as it comes: day dresses, plenty of black, and lots of practicality. The "ideal" silhouette was still 20s-esque, but bias-cut can look amazingly sexy on many bodies.
What to look for: Day-dresses, bias-cut, more Oxford shoes.
eBay keywords: "depression-era" "bias-cut" "secretary dress"
Inspiration: Bonnie and Clyde, The Thin Man, It Happened One Night




1940s
40's can be glam-level costumey, or just totally wearable. Great for womanly bodies and anyone who wants to show off a waist. Or, of course, there's the Katherine Hepburn look: flowing blouses and soft trousers — fab!
Look for: strong shoulders, nipped waists, suits, belts, soft high-waisted trousers.
eBay keywords: "katharine hepburn" "40s-style" "rosie the riveter" "old hollywood" "shirt-dress" "retro" "pin-up"
Inspiration: On the Town, Leave Her to Heaven


1950s
50's, of course, can mean a few things, from Marilyn-bombshell to Audrey-gamine. If you've got curves, the figure-hugging shapes of the 50s can be absolutely fab (need I mention Joan Holloway in her early incarnations — yes it's 60s, but with a definite 50s spin.) If you're straighter, you can't get cooler than late-50s streamlined.


Bombshell 50s: wiggle dresses, pencil skirts, fitted cardigans, heels, belts
eBay keywords: "wiggle dress" "pencil skirt" "bombshell" "marilyn monroe" "Mad Men" "Carrie Bradshaw" (sad but true) "sexy secretary" "new look" "pin-up" "bettie page"
Gamine 50s: jeans, pedal-pushers, sailor tees, ballet flats, menswear shirts
eBay keywords: "gamine" "sailor shirt" "boat-neck" "audrey hepburn"
Inspiration: Rear Window, Gentlemen Prefer Blondes, Funny Face, The Best of Everything


1960s
The 1960s is, of course, when fashion began fragmenting into self-expression and is harder to sum up. "French New Wave" is a trend in and of itself. Hippie style is whatever you want it to be; some people maintained a modified version of 1950s silhouettes; others went mod. Mod, of course, is another "boyish" trend, great for those with a straighter build.
Look for: color blocks, tights, minis, straight shapes.
eBay keywords: "hippie" "boho" "mod" "twiggy" "mad men" "space-age" "mary quant"
Inspiration: Mad Men, That Girl, Blow-Up



1970s
How to sum up the 70s? There was Disco, of course; there was 40s revival; there was sexy 70s. It's another era where there's something for almost everyone. I am partial to a sort of 70's grad student look: tweed jacket, high-waisted jeans, scarves and soft berets. I know someone who's built her entire wardrobe around Faye Dunaway in Network. Look for yourself, but a few hints:
Look for: clinging shapes, wrap dresses and tops, high boots, gold jewelry
eBay keywords: "wrap top" "wrap sweater" "sexy 70s" "faye dunaway" "spread-collar"


Inspiration: Network, Mary Tyler Moore

Again, this is just to get you thinking: it's something that helped me a lot in narrowing down what suited me and nailing down my own aesthetic, and it seemed worth putting out there in the hopes that it might help someone else, too! Does anyone else dress by era? How do you get retro inspiration? And what are your sources? Spill!
For all of our handy Dress Code guides, go here.