Work. Chances are, you will find yourself employed at some point in your life, but dressing appropriately for your workplace can be a tricky endeavor. As a part of our ongoing Dress Code series, we're helping you navigate these waters.
Starting a job — hell, staying at a job — is hard enough without feeling uncomfy or worrying about what you're wearing. There are no hard and fast rules that apply for every person at every job (and please, don't hesitate to send in more specific queries so we can get down to brass tacks). But before we tackle specifics on the shark-filled waters of workplace wardrobes, there are a few general pointers for people feeling really overwhelmed or who are starting from scratch (or near to it). These tips should guide you as you shop for office-friendly outfits, and work for the typical workplace (uber-casual offices excluded).

Dress to feel like yourself.
I feel like I'm playing dress-up in a suit, and did even more so right out of college. If you look uncomfortable, it more than overrides the professionalism of a getup.
"Professional" doesn't mean "dowdy," it doesn't mean "feminine," it doesn't mean "expensive."
It means exactly what it sounds like: dressing to do your job in a well-groomed and non-distracting fashion. No one is forcing anyone into sexy-secretary getups, here.
G/O Media may get a commission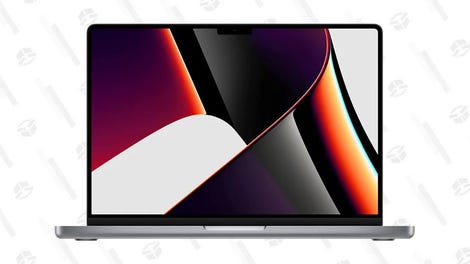 Save $300
2021 14" 1TB MacBook Pro
You can dress for work on the cheap.
Avoid cheap prints, for the most part, but with a little tailoring, dirt-cheap solids can work. I am also a serious advocate of second-hand.
Don't try to build a wardrobe all at once.
I know this is hard advice to follow if you're fresh out of school and just have sweatshirts. But buy the bare minimum — say, pants, a skirt, a blazer and a pair of shoes — and get a sense of what your office is like and what feels right on you in that environment. You've got time and you'll make better choices.
When in doubt, just don't do denim.
Unless you're that person who always wears jeans and rocks them and that's your thing (in which case you have it figured out and don't need any guidelines anyway), I'd say just take that huge hunk of guesswork off the table. After all, we're talking about making this as easy as possible, and even if "dark denim" or pencil skirts or something is just fine for your office, you want to get to a point where you don't ever need to wonder if something's appropriate.
Ditto for jersey.
It's easy, it's cheap, it's comfy, yes, and it can even look great. But unless you've got the whole office-dressing thing down cold, it's just too risky: it can easily look sloppy and, let's face it, American Apparel doesn't care about office appropriateness. (Tees and shells under stuff are, obviously, an exception. Oh, and underpants.)
Not everyone wears heels.
For many they're too girly, for others too hard to walk in. You certainly don't need to. But! If you're really stumped, or feel like you look young and if you'retrying to find the formula to a professional uniform, a pair of sensible, comfy (yes, it's relative) low heels is a good shortcut. Now, if it's not you: don't do it! This holds true for everything, but especially this. For me, as a small and young-looking woman, they were a big help in workplace dressing. And we're going to cover walking in them, for those who are interested.
Stick with closed toes.
Whatever shoes you wear, don't do open-toed. (Again, I'm making these absolute because we're going for the clearest possible set of guidelines here.) It can look weird with the wrong tights and in warm months you need a pedicure. Just one less thing to question.

Pantyhose are tricky.
This is a tough one, because I do realize this is largely a regional issue. If you're somewhere strict, like a law firm, wear them. I would say though that if you want to look reasonably youthful, nude hose are the absolute best way not to. Black tights, on the other hand, are everyone's friend. Lengthening with a black shoe, stylish with a contrast.
No shorts in the office.
This can go south in a few bad ways very quickly. And we're going for the confidence borne of certaintly.
No club clothes.
Do I need to say it? Avoid a lot of skin/cropped tops/miniskirts/those pants with 1" button plackets we all wore in the early aughts/crazy makeup/anything vinyl or sequined. But you know that.
When in doubt — or first starting out — create a "uniform."
For me, in the office, this was A-Line skirts, low heels and blouses. For someone else it might be wide-legged pants, Oxfords and, I don't know, a sweater vest. My point is, it takes the work - and the panic element - out of it.
Get decent underwear that fits.
It'll save you so much discomfort.
Now, let's get more specific!



THE BUSINESS-CASUAL OFFICE
"Business-casual," that alleged liberator from sartorial constraints, is in fact one of the most pernicious things of the modern era, with its vague guidelines and changing boundaries and unspoken rulebook. It's the thing I get asked about most frequently. Obviously the unspoken dress codes differ from job to job, industry to industry, office to office, state to state. Now, I'm hesitant to give you a must-have list of basics because I don't think any two women's are the same. (Although everyone should get an ok-looking coat, if you don't have one.) But a few general thoughts:
Ignore the "dress for the job you want" thing because with business-casual, the higher-ups are as at-sea as everyone else and besides, they can wear whatever they want. In any given office, you'll see a wild range of aesthetics and formality levels and total inconsistency and in short, it's confusing. Keep your blinders on and don't worry too much about everyone else.
That said: don't be afraid get tips from your coworkers. This is how everyone in my office ended up wearing the Limited "Editor Pant," which was affordable and unstuffy-professional.
Like I said, a "uniform" helped me. I got solid basics - blouses and skirts and black tights - from chain stores and had them tailored. I had one nice jacket to wear for businessy occasions. I got wool skirts for winter (Banana Republic Petites, mostly) and cotton ones for summer, and that was that. It could be pants. It could even be a dress. Whatever. I'm also all about establishing a color palette, but I'm crazy, so.
Believe the hype: a decent jacket pulls you together like nothing else. This need not be cheap and it need not be stuffy: I had a horror of "blazers" for years until I realized I didn't need to look like a boy at a Bar Mitzvah. (See the bolero below for an idea of what I mean.) As long as it buttons and fits across the shoulders (and a snap or two between buttons does wonders for the former!) it'll look okay.
Don't worry about impressing. Just stay neat. The office fashion-plate has a lot to live up to, anyway.
While ideally you aren't buying an entire wardrobe all at once, if you are, think slightly more structured or officey versions of what you already like to wear.
Add flair (not the Office Space kind.) This is the fun part of biz-casual. Once you have staples, you can add a nifty bag, a shoe, jewelry, what have you. This can be cheap. Although I sustained many an itchy neck in meetings from Forever21 necklaces, so be careful.
Let's look at some examples! What follows was, inspired by a friend, Elizabeth, who kind of has the balance down. She's a fan of the Wedding Present who reads Nietzsche for fun, but works for a finance magazine in a notoriously conservative city. In addition, she frequently has to be camera-ready.
You get the picture: it's a mix of prints (the dress, the blouse) and basics (the coat, the skirt) with enough personal touches (the bag, the jewelry) to keep it interesting. Classics are "enlivened" as we never actually say, with color. You'll notice the shapes are all pretty consistent, and because the color palette is too, everything works together. (And, in case you're wondering, almost all these items are under $100.)
THE OFFICE THAT'S ALL BUSINESS
While the most constraining, a serious office dress code takes a lot of the guesswork out of getting dressed. And while good suiting is expensive, it's a happy truth that many jobs that require it at least provide the compensation with which to purchase said suiting. I need not tell you that J. Crew and Banana Republic turn out sober suits at okay prices. A few other things to keep in mind:
The old saw that, wherever you buy a suit, you should buy all the components - skirt, pants, the works (unless you're against either skirts or pants, that is) - is a big help. You'll match.
The name of the game for suiting is tailoring, tailoring, tailoring, even on cheap suits. Any good dry-cleaner can do basic alterations.
Think about replacing buttons — this can transform a fast fashion suit into something respectable for all but the harshest lighting.
When in doubt, remember, per Chanel, that "refusal is all." If the neckline or the heel or anything at all is in question, just play it safe and go with the more conservative option.
Get a haircut you like and keep it up. That's 90% of looking groomed, anyway. (Okay, maybe 75%.)
Used is your friend! Suiting can be found on eBay and, even better, in consignment shops. Try "gently used," "tailored" and, of course, any brand you like as keywords. There's a lot of J.Crew and Banana Republic up there, too, and a little tailoring will make it yours.
See the above and apply to shoes and briefcases.
Cheap black looks less cheap than cheap brown.
Yes, you may have to wear pantyhose. Just go with it.
Ignore everything worn by Ally McBeal. The lawyers of Law and Order are okay, although sometimes their sweaters are a little form-fitting for the courtroom.
If you want to do "fun suits," I'm afraid they'll usually need to be pricier. Plenty of labels (think Ted Baker or Tom Nguyen) make creative suiting that's still totally professional, but it's hard to get away with cheap and fun.
"Businesslike" doesn't have to mean "mature." Just because you can, you don't need to wear pearls if you don't want to.
Specific ideas: I'm using as an example my friend Ajana, a lawyer in the NYC area with a lot of style who gets most of her staples from consignment shops, tailors them, and mixes them with affordable accessories. She likes purple.


IF YOU ARE A TEACHER
This is a notoriously tricky one, since one wants to preserve a nun-like state of modesty, not draw attention to one's clothes, and exude authority and maturity - all hard to reconcile with style.
Avoid distraction in clothes or jewelry or flair - it's not like most kids need an excuse, or extra ammunition (depending on the age and the kids.)


Unless you feel like it, that is. Teaching elementary school is one of the the only jobs, as my friend points out, where you can totally get away with a Christmas sweater. Or a fun necklace! Teens, however, are merciless.
The good thing is, you will be revered or reviled regardless, so you can't really take it as a comment on your aesthetic. I remember a totally unfounded and deeply unfair rumor that one very modestly-dressed middle-school teacher never wore a bra. There was nothing she could have done to prevent this.
Be consistent. I remember one science teacher (just out of college) who veered wildly between a suit and tie on some days, and jeans and a rugby shirt on others. This was highly distracting and mysterious. Most of my teachers, now that I think about it, did the uniform thing as strictly as anyone I've ever met, although we hardly noticed at the time - which is, I guess, the point.
Specific ideas: One of my friends, Catherine, who teaches high-school math, is especially genius at being totally adult while managing to be herself: she wears almost all vintage, or 40's shapes which, she says, are "flattering but inherently modest."


IF YOU WORK IN FASHION
In my opinion, this is actually the toughest one of all. If you work in a fashion environment, it's nearly impossible to keep up with the Wintours - you'd be broke. At the same time, people expect you to look the part. It's easy to either spend everything on a few "statement pieces" and live on Ramen, or else just give up. The thing I've heard over and over again from women in the industry - especially ones starting out - is that the easiest course of action is what I recommend in general: to develop a uniform of some kind - something that won't date, go out of fashion, or require too much thought. "Otherwise, I'd go crazy," says one who works for a big-name fashion mag. Black is always an option, as a million assistants and photographers can tell you. (Personally, I've always thought that if I ever had to work at Vogue, I'd promptly have four solid, identical dresses made in different sober colors, get a weird Colette haircut, and call it a day. ) Amber, who works in fashion PR despite "not being a natural fashionista," had a slightly different approach: she always - always - wears a plain white shirt, tailored men's-style trousers, and Oxfords. And yes, she looks awesome and takes all the guesswork out of it.


THE HOME OFFICE
For those of us who work from home, it's a constant struggle to maintain our dignity and humanity and not just give up, sartorially-speaking, and wear pajamas. And it's true: it does help to be comfortable when you're working at a furious pace and sitting all day. But we need not regress to babyhood: knits, jerseys and layers - over comfy underwear, of course - look okay even if you need to hit the deli or talk to Jehovah's Witnesses.
And do I recommend actually laying out your wardrobes, digitally or otherwise? Well, yes — for those of you who are visual (or neurotic), it's very helpful. However, we all know you're not all going to do that, so that's why we're here! Got an interview? A different career altogether? A meetup with an ex? A family reunion? Hit me up with a specific wardrobe query and we'll put our virtual heads together and give it more specialized thought.
Next up in Dress Code: What to wear on date night.