When 3 people wrote in on a single day asking about "accessories" — and they weren't the first! — we knew it was time to tame the fashion beast.
It's a hard one. We all know that accessorizing — be it through jewelry, belts, artful scarves or rakish hats — can add untold flair to someone's look. It's an inexpensive way to add personality and versatility to a wardrobe. My aunt, the zippiest dresser I know, uses accessories with tremendous flair. (That picture of her, circa 1972, is a constant inspiration to me.) My oldest friend, Elaine, puts together the best "outfits" you've ever seen. Another friend is never without an armful of bangles. But that's them! These selfsame things can be intimidating and confusing. And are there "rules" for such things? Putting together a look, at the end of the day, is highly personal. And much as I love scarves and hats and vintage necklaces, I felt funny dictating such things to others.
Here's what, after much thought, I think it's safe to say. First: don't be afraid to be unadorned, if that's just who you are. Second, if you'd like to get into more accessorizing, don't be intimidated. The good thing is, these items tend to be cheap. (Indeed, those of us who go in for it quickly find our closets overflowing with costume jewelry, 2/$1 thrift store scarves, a plethora of cheap bags and plenty of things we don't wear.) And while accessorizing is all about expressing personality, I do think there are general guidelines for "getting started."
Start slow. Add one piece - maybe a draped winter scarf, a simple necklace, or a pair of dangly earrings - and see if it feels comfortable. You can always take it off! Getting used to pure adornment - with no practical utility - can take some getting used to.
G/O Media may get a commission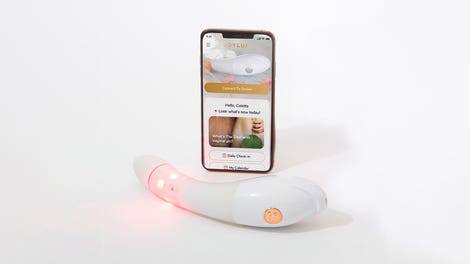 $50 Off
Joylux vFit Gold Device
Look for inspiration. Take note of accessories you like, creative uses, new ideas. It's not about transforming yourself; just looking for ways to amp up your style.
Try to find pieces that have significance to you: I have an "S" pin I love to wear, and a turtle brooch inherited from my Grandmother. Another friend always wears an heirloom locket with her parents' pictures inside.
Don't try to "pull something off" that doesn't feel like you.
The following are, I think, optional: bracelets, hats, hair ornaments, brooches. Some people never wear any of these and live full, happy, chic lives. You are a hat person or you're not. Now, you may be one and not yet know it, but don't feel bad if it just isn't you. But a basic accessory wardrobe might - might! - include some or all of the following, all of which can be found cheaply at a thrift store, online or at Forever21:
Scarves:
One large, pashmina-style, suitable for winter.
One silk square
One kerchief - size square.
Necklaces:
One pendant, suitable for long or short chain.
One short necklace that works with pendant
One longer necklace that can be doubled, worn with other necklaces
Earrings:
One dangly pair
One pair studs
Bags:
One everyday bag
One small bag or clutch
One tote or casual bag
Belts:
One wide
One slim
Waist-belts if you like showing off your waist; if not, something looser. At least one of them should have enough holes that you can also wear it over a sweater or light coat.
A bare-bones list, yes, but I'm convinced with these few items you could be well-accessorized for months.
A big, pashmina-style scarf is an easy place to start, because you can actually wear it for warmth. Loop it and draw the ends through the loop; or wrap it once loosely around your neck: experiment!
Silk scarves are another matter. Don't be intimidated by all the lore of French women and their intricate folds. I usually wear mine very simply: folded into a triangle and tied loosely around my neck to form a "bib"; or rolled a few times and then tied into a loose necklace; or, like a pashmina, simply looped with the ends drawn through. It's also cute in the hair with the ends hanging down, 1960s-style. Any way you do it, it's an easy way to dress up a tee or simple sweater. And if you're well-coordinated, there are endless hours of experimentation ahead of you. (This gallery may give you inspiration, and here's a how-to!)

But none of this really addresses the question: how to put it all together? While I don't think there's one answer, I asked a bunch of really chic women how they accessorize. Some had methods and rules, others have a more organic process, but altogether it gives you a picture of how different people approach the topic to create very different styles.
For myself, when I started to think about it, I realized I had certain things I almost always wear. Belts, necklace, pin. First, I have big glasses, so I always take these into account and choose to never do an earring. Because I have a bust going on, I like to break up the line with something vertical, either a long necklace or a scarf. I always wear a certain pendant made of antique watch-chains; sometimes I layer this with longer necklaces, or even a scarf. When I wear a blazer or jacket, I always have my little "S" stickpin in the lapel. And I'm a sucker for hats, so weather permitting I'll generally throw on a tam or something else soft; it makes me feel fully-dressed. Here's what some other women of style had to say:



Amber: Girl Friday, bold fashionista.
I tend to build around earrings - they are generally the most important accessory for me...earrings determine what hat I can and will wear. Scarves are definitely built around the outerwear/coat - if there is a prominent collar on the coat - no scarf! Bags have to go with the outfit and whether there is a lot of walking in my day - if there is a lot of walking in my day then an across the shoulder or fancy leather back pack. So many outfits are elevated by belts - that is a minefield for me.



Bonnie: Beauty historian, vintage queen.
Weirdly, I am known for my accessories. But I have a tense relationship with accessorizing. I have naturally large hair and a large chest; I often feel that those are a bit much without accoutrement. I so enjoyed that time in the mid-nineties when chic was defined with the perfect khakis and endless black tops. But looking back, it was rather lifeless. So I started with my love of the past and have spent the last decade collecting vintage evening clutches. (A tiny, blue glass-beaded one with an intricate metal filigree clasp has been lent out to all my best friends for their bridal "something blue.") My point here is that one way to get into the topic is to start with a hobby or interest and make it the topic of your accessories. (As you know, I'm sort of a beauty historian.) My very favorite thing is a copper ladies ashtray. My grandmother carried it with her to speakeasies; even a wild lady doesn't ash on the floor.
So for evenings out, I've got it down. But day to day, I find myself often plucking out earrings, belts, and bracelets as soon as I step in the door. Now I usually pick two or three pieces per season and wear them to death. If none of it comes naturally, I say just be the girl with the dachshund brooch (or what have you) and leave it at that. Here are my greatest hits. Use them as tips or ideas for readers or your self...
1. Big rings. I buy colored glass bubble rings from Red Beri in Brooklyn, wear one on my pointed finger, usually until it breaks two years later. Then I replace with a new color. Works great as the sole piece of jewelry. Bonus (or not): babies are fascinated by these.
2. Wide hip-slung belts. I have slim hips, but not such a tiny waist. Trying to create a waist with a belt makes me feel dowdy, but I will wear one of my extra-wide braided belts over almost any dress, or to make my frequent jeans and wife beater more interesting.
3. Long necklaces. This spring I copied a lariat I saw in a catalog. It's so long that it almost functions as a scarf. I get vaguely claustrophobic if there's a chain snug on my neck, and medium length necklaces seem like arrows pointing to my cleavage. I have a couple large 60s and 70s pendants that I hang from waist-length chains.
4. Scarves/wraps. I can make a silk scarf work around my neck only when my hair is straight and tamed. With the big curls it's all too much. But I love, love my lightweight cotton, silk, and feather-light wool scarves from Indian and Tibetan boutiques. This summer, I've worn one as a skirt with the above belts, and the cotton ones roll up tiny, come in gorgeous saturated colors, and are warmer then you'd think for air conditioned theaters and offices.
6. Big dangly earring. I've come to like these with big or small hair. I just feel...sparklier. This summer I'm wearing ones I buy at the same boutiques as the scarves. In fall and winter I tend more towards big gold hoops or small diamond (or shmiamond) studs.
Elaine: world-traveler, champion thrift-shopper.
For me it can work one of two ways- either starting with an accessory or single item (an elaborately patterned scarf, vintage boots or big jewelry, for instance) and choosing the entirety of the rest of the
outfit based on that, or, adding the accessories last if I feel what I'm wearing seems a little too austere. I think the former approach almost always results in better and more creative dressing, but
restrictions of laundry, lateness, laziness, etc, do not always allow this. Some other thoughts:
-Although being too "matchy" is looked down on these days (at least in the pages of Lucky!), choosing accessories/clothing in the same (or complimentary) color family is a sound move in my book, particularly
if you're working with wildly patterned scarves or other potentially overwhelming items. I also think it's preferable to have bag/shoes/belt in the same general range—certainly not exactly the same hue (although that could be impressive, if outré), but say a burgundy-ish belt with dark brown shoes/bag, etc. Unless you're a pro, one obviously vintage/ethnic piece per outfit is probably another good rule.
-Same goes for jewelry-it may be a rather grandmotherly rule, but if you are pulling off some seriously ambitious jewelry, do stick to all silver or gold, and balance out an impressively massive necklace with
delicate earrings, for example.
-I read some dubious fashion advice once that one should never, never repeat an outfit exactly, even if you change only a single small thing each time. This is hokum. I think we all have outfits that we
automatically associate with certain accessories, or families of clothes/accessories that work especially well together, for good reason- some of the clothes/accessories that always make me feel good when wearing them fall into this category. That said, if you're accessory-shy to begin with, it can be very easy to only ever wear a certain scarf with a certain jacket, so it's instructive to occasionally branch out from the clothing/accessory unit you may be most comfortable with.
-Scarves- choose scarves in opposite/complimentary colors of the clothing colors you tend to favor. If you wear a lot of black or navy, don't buy scarves in these colors as they'll just melt into your clothing, but if you tend to wear mostly white or khaki they'd be just the thing. Don't attempt a neck-draped scarf with a headband/headscarf, or a big long necklace and a neck-scarf.
-Badges and necklaces- if you're one of the many who has to wear some sort of work id/badge around your neck, forget necklaces that are the same length as your badge lanyard—it looks visually messy, and will end up getting tangled by the end of the day. You can still do shorter necklaces though, and if you really miss that sort of long necklace, you can always find some inexpensive but dashing ones and wear your badge from that instead (Forever21 is a great source for them!)
-When in doubt and you feel over-accessorized, Chanel was not wrong.

Jenna: Jezebel, fab scarf-wearer.
I'm a shameless style biter. If I see a page in a magazine, or a picture on a blog, or a girl on the street, with an outfit comprised of items whose typology recognize, but put together in a completely different way than I'd ever thought of, I have no qualms about copying either the detail I like or the outfit as a whole. On some level, even though I know there really are no "rules," it's nice to feel "permitted" to knot a leather belt as though it were a sash belt, or to wear a scarf and a hat, or to put a necklace on over a buttoned shirt. Or whatever. If I see something unusual and flattering, I try and figure out what it is specifically that's caught my eye, so I can imitate it later.
If I have a single guideline when it comes to accessories, it's never to wear the belt that comes with the garment. They're always so naff! I take the sash belt from the 70s secretary dress and wear it as a scarf. I take the cordovan leather belt and wear it with the camel coat. I take the black suede belt and put it with the LBD. I take the black Margiela plastic belt and put it with the black winter coat. And ribbons are belts, too!
I'm also a firm believer in the principles of balance and contrast. All-black outfit? Knot a colorful scarf around the handle of your bag. (Actually, I do that almost no matter what.) Orange dress? Green shoes. Grey dress? Red shoes. Wearing something sleek and elegant? Why not try on your bulkiest necklace from that weird Tibetan shop. Do you have on something unisex-looking? Try girly shoes, or delicate jewelry. I like wearing a string of pearls and a pair of grandmotherly secondhand Ferragamo shoes with an oversized vintage YSL men's shirt.
I shop thrift stores, and eBay, eBay, eBay. My love for eBay is so embarrassingly excessive, I actually did an interview with their blog. You can set search alerts in your favorite brand and size. I'm mostly into it as a shoe shop. Over the years, I've bought secondhand shoes in good conditions from high-end brands I could otherwise never afford, like Prada, Miu Miu, Ferragamo, Gucci, and Jil Sander, and I rarely pay more than $15-$25 a pop.
I guess that's about it. I look to accessories that provide a counterpoint to what I'm wearing - clunky ugly-pretty Prada shoes with pretty-pretty dress, not with ugly-pretty 70s librarian getup; fine jewelry with men's wear, not with cutesy dress; scarf turban with jeans, not with caftan - and I swap all my belts around. After that, it's all a matter of personal taste, really.



Susan: Aunt, style icon
I guess what I do is I start with one focal piece - it can be really small, like a pin - & use it to express my mood or whatever it is I'm trying to convey. Usually it's something whimsical (no point in trying to be sexy at my age). Then I choose a couple other things that 'go with' it. For instance, at your engagement party I had that white hat with a red flower in it. I wore my red reading glasses that day (I have lots of different pairs from the dollar store) and also red toenail polish, to pick up on the flower. Also, I had this black dress with a funny collar, like a string of black cloth beads, so I wore big silver ball earrings to reflect the ball collar thing. But you can't wear too many accessories of the same color, or have too many different elements or it starts to look like Grandpa Moe's backyard. Not that that isn't a look. If I were to wear too many silver things (shoes, belt, bracelet, earrings, bag) it would look too 'put together' & I am too vain to let people know I think much about what I wear.
At work I have to wear lots of black, cause I'm around little kids & it gets pretty messy. So I use accessories a lot, to dress up my look & to amuse them. Always a pin or a scarf around my neck or in my hair. Sometimes I'll make a pin from a kid's artwork and wear it in the classroom. When it's really a dressy occasion, I like to wear gloves & carry a small handbag, so I can slip them off & on for effect...
Lately I've found my best fashion accessories to be my concertina & mandolin. I don't play them very well, but they serve the same function as accessories, in that they catch the eye & amuse/distract a person. When I played out the other night, I also pinned a plastic chameleon to my dress, because I was nervous...




And of course, no discussion of accessorizing would be complete without a few words from Dodai, whose trademark is, of course, a flower in her hair.
I always liked putting things in my hair, and after I cut it short (in my 20s), it was easier to accessorize with clips/barrettes/etc. I have done feathers and headbands, too — I just think the flower sticks. It started to become more persistent in the last 5 or 6 years… after I turned 30. My 30th bday was a "red" party — you had to wear red, red hots and red candy were in a pinata, etc. I wore a real red rose behind my ear. I liked the way it looked, and started buying one rose when I was headed to a party or drinks... eventually I bought an artificial rose hairclip. Basically, I never intended for it to be my "thing," but it's just so easy to clip it in! I wear a lot of black and it adds color near my face, which keeps me from feeling/looking washed out. I'd see pictures of myself with it and I really just liked it! Now when I go out, I feel weird if I don't grab it… like something is missing. The frequency has definitely increased in the last 3 years. So many people have flowers these days I am tempted to try something else, but I love that it's now, it's retro, it's tropical, it's Dorothy Dandridge, Dorothy Lamour, Billie Holiday… And it makes me feel less bad about how I'm too lazy to put on makeup.
.............
At the end of the day, I love this quote Bonnie sent me, 'from one "Mr. John," in The Charming Woman, edited by Helen Frasier (1950):'
Take that $5 bill in your hand, go to the most reputable store in town, walk directly to the hat of your choice and declare your love. Let your instinct tell you what to do. If the hate fulfills your dream, buy it. Be strong, be firm, and don't ask anyone's advice. Don't try to make that hat look good on all your children and your friends, don't ask any questions— just buy. All great things are done impulsively. Sometimes they turn out to be the best decision you have ever made. If you do make a mistake, you learn from your mistake. The only real mistake is to take the problem too seriously. Go trust your subconscious integrity, don't waver, defy all gravity, let the $5 ride wherever it wants to go— it will be the best experience for $5 you have ever had.


For all of our handy Dress Code guides, go here.