Following her breakout role as Molly Solverson in FX's Fargo, Allison Tolman was determined to find another role as unique and surprising as the one that propelled her from relative unknown to Golden Globe-nominated actress in a matter of months. After reading for a number of stereotypical best friend/crazy neighbor roles, she finally got the script for Downward Dog, a touching and witty sitcom about Nan, a professional Pittsburgh woman in her 30s, and her bond with Martin, her obsessively devoted dog.
As we wrote back in May, Downward Dog is a sweet-but-not-saccharine love story with far more heart and intelligence than you'd ever expect from a show featuring a talking animal. It's kind, funny, and relatable—much of that because of Tolman's grounded and likable performance. And that's why we were so excited when we found out that Tolman and Ned, the expressive rescue dog that plays Martin, were coming to the Jezebel office to talk to us (or in Ned's case, sit patiently and let us rub his belly) about their new show.
If they were tired or sleep deprived from their appearance on Good Morning America earlier that day, Tolman and Ned didn't show it, and Tolman spoke enthusiastically about what makes Downward Dog so special to her.
"I was so excited to have the opportunity, especially because I'm a size 12, so I'm easily twice the size of most actresses on television," she said. "So to be able to be like 'Here's this woman, [my character Nan], and people want to have sex with her and she's a professional'... She's a romantic lead. She's the lead in her own story. I thought that was really important and I jumped at the chance to do that."
In the show, Nan juggles work—she's an under-appreciated ad consultant—with her relationships, including one with her on-again/off-again boyfriend Jason (Raising Hope's Lucas Neff), and life with her best friend Martin.
Downward Dog, Tolman says, "is an ode to the power of pet ownership," though you don't need to be a dog person to love the show. (Tolman herself is allergic, something she didn't tell producers until she was sure she had the role.) The show is made for smart people and dog people, though she's is quick to add that "there is a Venn diagram where those cross. You can be smart and a dog owner."
G/O Media may get a commission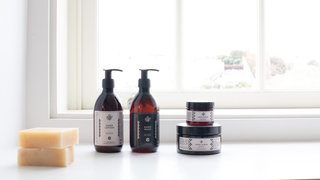 Exfoliate and Hydrate
The Handmade Soap Company
Ned the dog had nothing to add.
Downward Dog airs Tuesdays, 8/7c, on ABC.