At a hearing that started Wednesday in a Delaware bankruptcy court and continued today, Dov Charney, the ousted CEO of American Apparel, has attempted to convince a judge to reject the company's reorganization plan—a plan which would leave shareholders, including Charney, with nothing.
American Apparel filed for Chapter 11 bankruptcy in October, and is seeking approval for a plan that would take the publicly traded company private, placing control in the hands of its largest bondholders and cutting approximately $200 million in debt. Charney—who founded the company in 1989 and was fired in December 2014, when American Apparel's board accused him of sexual misconduct and misuse of company funds, which Charney denied—would obviously prefer a different plan, one that would allow him to regain control of the company he sees as having been unfairly wrested from him.
Bloomberg reports:
Hagan Capital Group and Silver Creek Capital Partners have offered to buy American Apparel and bring back Charney. Their offer, valued at about $320 million, was rejected by the board because it would add too much debt and because the retailer's lenders opposed the offer, Schneider testified.
According to the New York Times, Charney and Hagan Capital managing partner Chadwick Hagan argued that AA didn't give their bid serious consideration; a lawyer representing the creditors argued that the proposal was rejected because it was "inferior," involving "uncertain and uncommitted financing."
Charney, according to Reuters, gave an "animated" testimony accusing the board of "blackmailing" him into leaving in mid-2014; he said that he faced "character assassination" if he did not take the offer.
G/O Media may get a commission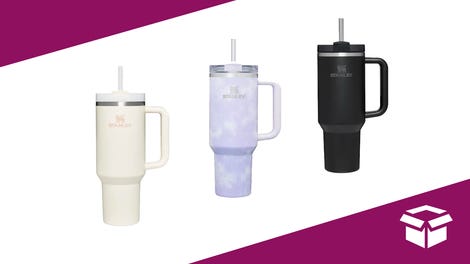 Up to 45% off
Stanley Cup Sale
The Times reports that "the creditors' counsel opted in the early afternoon not to cross-examine Mr. Charney, saying his rambling testimony had shown he could not be expected to provide relevant information."
In animated testimony, Mr. Charney characterized the company's snub as the latest move in a plot by current and former directors at the company, as well as onetime investment fund allies, that wrested control of the company from him and were now blocking his return.

Mr. Charney was interrupted several times by Judge Brendan L. Shannon, who asked him to stop "free associating."

"There was a plan behind the scenes to steal the company from me," Mr. Charney said. "Since then, it's been a constant hide-the-ball."

"I felt that I was doing something that was creative. If it was unorthodox, it was meant to be," he said, adding: "I'm a merchant, I'm a creative artist, I'm a photographer, I'm a marketer, I'm an industrialist."

"I don't want to hand over my company," he said. "This is coercion."

According to the LA Times, the courtroom burst into laughter when Judge Shannon accused Charney of "free associating."
Yesterday, current CEO Paula Schneider testified on the reportedly chaotic state of the company when she took the reins from Charney last year. WWD reports:
Much of her testimony described the apparel behemoth's back-end operations as running more akin to a scrappy start-up than the multimillion-dollar, publicly traded company it had become. The details she shared are much of what she's publicly said in multiple interviews throughout last year: no spring line when she joined in January 2015 following Charney's firing; more than 70 people directly reporting to her; a looming bond payment due; four million units of slow-moving inventory, and the company was in the middle of a clearance process called the dot sale that ultimately did more harm than good.
The New York Times also reports that Schneider testified about the detrimental effect of American Apparel's "hyper-sexualized" advertisements, which prompted several lawsuits overseas and got the company kicked off Facebook, an important e-commerce vehicle. (It's unclear if Schneider mentioned this "Ask Me to Take It All Off"shirt the company planned to have retail workers wear on Black Friday, or the ever-evolving working conditions of the company's factory employees.)
"Essentially, walking through the door, we had no cash. Every day was Sophie's Choice, Schneider said, via the Times. "Literally, it was just keeping the lights on."
---
Contact the author at ellie@jezebel.com.
Image via Associated Press.