According to a new interview, Dov Charney, the disturbing, embattled daddy of American Apparel, is still working on a new brand of clothing under a temporary name: Los Angeles Apparel Company. See, it's nothing like American Apparel!

Charney often seems to relish his position as one of the more controversial figures in fashion, so much so you can easily picture him twirling an invisible mustache while surrounded by pornographic American Apparel ads of yore. Business of Fashion's profile, "Dov Charney's Next Act," meticulously outlines both his achievements as an early proponent of U.S. product manufacturing and his screw-ups at the helm of the company, as well as his reputation for pomp and, less we forget, the three sexual harassment lawsuits lodged against him in 2005.
Charney's hex on American Apparel is almost complete. "The business is dead now. It's gone. It will never come back," he says of its notorious financial struggles of late. "It is not going to resurrect. It's not going to have a happy ending. They destroyed it." R.I.P.
After being ousted from the company he founded and subsequently tangled in various lawsuits, Charney is now focused on launching his sequel to American Apparel that sounds a lot like American Apparel. So naturally, he's ready to peacock in the press as he seeks funding:
As always with Charney, there is plenty of ground to cover. The name of Charney's new venture is still undecided, but he's already producing garments tagged with the label "Los Angeles Apparel Company." (He has also published a photo essay with the title "That's Los Angeles," although he says that is not necessarily what the brand will be named.) "We plan to sell as a stockist [to the] screen printing industry," he says. "And, secondarily, to consumers, through an online store, which we don't have established yet. And through a number of bricks and mortar stores. We might do a number of different brands."
G/O Media may get a commission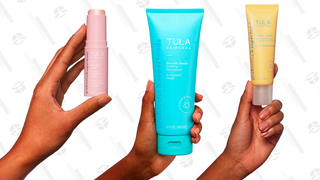 Much of the profile finds Charney broadly pitching his new line, offering fashion industry critique and explaining away the reasons he failed. He also shares many of his singular philosophies about the business of clothing production—"I'm not saying that Diesel or all these brands from Europe did any harm, but when they inserted themselves into the basics business, it created massive insecurity," he says.
Charney has a particularly Charney-ian interpretation of American Apparel's classic era of racy ads:
"My photographic aesthetic won over the contrived aesthetic," Charney says. "I used to call [traditional advertising] the dead look. What is she doing? If someone has a Hasselblad [camera] pointed at you, you're not doing this." He drapes himself over the couch in a fainting position, eyes rolled up to the ceiling. "I created a new aesthetic," he goes on. "Challenged norms. Challenged perceptions of beauty." The combination created a movement that was at once both anti-establishment and elitist. "[American Apparel] was designed for well-educated consumers," he says. "It wasn't designed for the suburbs."
Most intriguingly, there's the part about Charney's replacement by way of Paula Schneider as CEO in 2014 wherein he emphasizes that Standard General, the hedge fund with shares in American Apparel, specifically requested a woman CEO. Charney takes credit for recruiting her:
"[Standard General] said, 'You wear a mask, you run the company. You hire a puppet. A CEO. Whoever you want. Just make sure she's a woman.' They say, I gotta have a woman. Who do you think? Paula Schneider. I say, 'Look Paula. I'm the boss. You'll become the president, I'll become the CEO.' She says, 'Got it, got it.'"
It did not quite work out that way.
Last week, it was announced that Schneider had left the company, reportedly for "personal reasons," per the Los Angeles Times. But it's noteworthy that Schneider, despite such a hefty public title at a prominent company, appears to have left out the history of her time at American Apparel on her LinkedIn page, according to BoF:
Her Linkedin page is now devoid of any mention of the time she spent as its official leader. Schneider has been replaced by general counsel and chief administrative officer Chelsea Grayson, a lawyer whose specialties, according to her own Linkedin profile, are "mergers and acquisitions, distressed mergers and acquisitions, private placements of equity and debt securities (both issuer and venture capital fund representations), joint ventures and strategic alliances and importation and distribution transactions."
As for Charney's new clothes, for what it's worth, the writer Lauren Sherman notes:
He is adamant his new techniques and styles are kept under wraps until the collection launches, fearing the eyes of competitors. But in a preview of the current product line, this reporter can confirm the garments are forward looking in their concept and design. While Charney's aesthetic doesn't waver, he is also not in creative stasis. There are fabric innovations, silhouette shifts and wash techniques that will attract the eye of an "educated" consumer once again.
Or perhaps just another bunch of expensive basics. Read the full profile on Charney here.