By now you've heard the story of sixteen-year-old Courtney Stodden legally marrying an actor 35 years her senior (and four years older than her father). Now that Courtney's parents have been receiving death threats, Doug's manager and agent have dropped him, and Doug's mother refuses to speak to him, the couple is telling their side of the story. Spoiler alert: their honest answers about the situation might be even more troubling than what you already assumed.
After Good Morning America verified Courtney's birth certificate (yep, born in 1994), they conducted an interview to try and how the two even met. Courtney, an aspiring singer and actor, signed up for one of Doug's online acting classes, and from there two engaged in a 4-month "online courtship." They "fell in love without ever meeting," while Courtney's Mom Krista monitored their exchanges. Doug says he had no idea that Courtney was a mere teenager (and just looking her, it's an easy mistake to make) and suggests that upon hearing the news, "My world turned upside down."
Courtney's Christian values and faith continue to be a factor in this bizarre story, as she knew that if she "kept [her virginity] I would be blessed with a beautiful gift. And God did — he blessed me with my soulmate." How does she know who her soulmate is at 16? Obviously, she believes that she's an "old soul." What if her marriage to an actor three times her age helps her career? Courtney responds, "It's another beautiful blessing." A "blessing" that they've reportedly been shopping around, as reality producers who "see the goldmine potential in their relationship" are clamoring to sign the duo for a TV series.
G/O Media may get a commission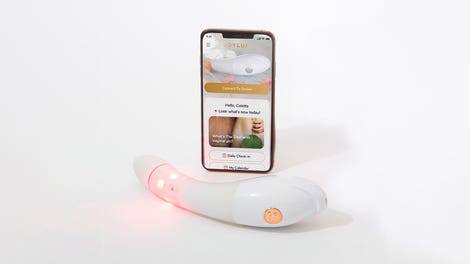 $50 Off
Joylux vFit Gold Device
Finally, the happy couple addressed the online backlash their story has recieved — and they could care less what you think. Said Doug,
"I'm a pervert, Courtney's parents are the worst parents in the world: Pimps, selling their daughter. People are welcome to their opinions — that's what the world is about."
Earlier:
Anderson Cooper Is Upset About This Whole "51-Year-Old Marrying A 16-Year-Old" Situation