One of the last remaining great Hollywood stars of the midcentury, Doris Day, has died.

Day, who started out as a singer before ascending to her throne as rom com queen of the 1950s and early 1960s, had a schtick, and that schtick was fresh-faced innocence. Via her obituary at the New York Times:

"My public image is unshakably that of America's wholesome virgin, the girl next door, carefree and brimming with happiness," she said in "Doris Day: Her Own Story," a 1976 book by A. E. Hotchner based on a series of interviews he conducted with Ms. Day. "An image, I can assure you, more make-believe than any film part I ever played. But I am Miss Chastity Belt, and that's all there is to it."
There was a certain amount of tension in that image, though. Rock Hudson said about one of her most famous movies, Pillow Talk:
"I suppose she was so clean-cut, with perfect uncapped teeth, freckles and turned-up nose, that people just thought she fitted the concept of a virgin," Mr. Hudson once said of Ms. Day. "But when we began 'Pillow Talk' we thought we'd ruin our careers because the script was pretty daring stuff." The movie's plot, he said, "involved nothing more than me trying to seduce Doris for eight reels."
G/O Media may get a commission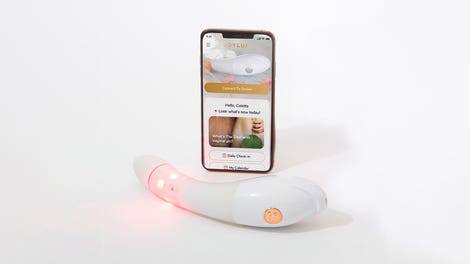 $50 Off
Joylux vFit Gold Device
And despite the stereotype of Doris Day as the ultimate woman of the retrograde 1950s, in her later roles she often played working women, such as an interior designer in Pillow Talk, which was against the grain for the mass media images of women at the time and complicated her persona. Via the L.A. Times:
In a 1976 essay in Ms. magazine, film critic Molly Haskell presented an early revisionist's view of Day's career. She argued that Day was a proto-feminist who challenged "in her working-woman roles, the limited destiny of women to marry, live happily ever after and never be heard from again."

Not only was Day a rare movie heroine who worked, she had great jobs, playing an interior decorator in "Pillow Talk" and an advertising executive in "Lover Come Back."
But "Miss Chastity Belt" was no longer a role with much currency in Hollywood after the upheavals of the 1960s. In fact, Day was present at one of the events that really marked the end of Old Hollywood; she likely saved her son Terry Melcher's life when she made him vacate his rental at 10050 Cielo Drive, the location of Charles Manson's infamous Tate murders, after he told her Manson, whom he'd met via Beach Boy Dennis Wilson, had visited the address.
Day retired from the movies in 1973 and spent the next several decades involved in animal welfare advocacy. She only occasionally spoke to the press, although she made the rounds for her 97th birthday, last month. Closer Weekly—the inexplicable tabloid for the AARP set that has covered Doris religiously in recent years—got one last exclusive:
Every spring, showbiz legend Doris Day receives hundreds of birthday cards. "I've been blessed with good health, great friends, a wonderful career and many precious four-leggers," the actress recently gushed to Closer Weekly in an exclusive new interview, on newsstands now. "I'm very grateful."
Congrats to Olivia de Havilland, who is still on track to outlive literally everyone from Hollywood's Golden Age.