The nominations for the Golden Globes included six for HBO prestige drama Big Little Lies, submitted as a Limited Series. Except, oh wait, it isn't limited at all. There's actually going to be a second season now, and some critics are giving the network the side eye.
On Monday, The Hollywood Reporter's Daniel Fienberg called the series "a completely fraudulent participant in the various TV movies/limited categories," and wondered if Reese Witherspoon and Nicole Kidman would have even been considered as nominees when there are real limited series actresses, like Sarah Gadon in Alias Grace.
On Wednesday, THR shared a terse statement from the network, who would like to remind you that they didn't even know that the show would be so wildly successful that they'd order a narratively unnecessary second season:
"Big Little Lies was conceived, produced, and aired as a limited series," reads the network statement. "The implication of impropriety regarding HBO's awards submission of Big Little Lies in the Limited Series category is irresponsible and uninformed. The idea to continue the story came about only after the show aired. None of the cast or filmmakers had holdover contracts. Each deal had to be renegotiated, which is proof that no ongoing series was contemplated. Additionally, no source material beyond Liane Moriarty's novel existed. The accusation that HBO was 'gaming the system' is baseless and undeserved."
Creator David E. Kelley also denied any funny business, saying it's better to reclassify "in future," than try to rewrite the show's history, which is a very funny way to justify huge shifts in potential awards categories.
"I know what we were, and that's a limited series," said Kelley. But who knows what they will be?! When asked if there will be yet more Liane Moriarty novellas popping up to inspire future scripted material, Kelley said they're open to anything. Maybe the second season will be the last, maybe there will be six seasons and a movie.
Well, I guess you have to say a little open-minded, because we were convinced the first one was a one-off. But we're equally convinced that season two will be it, too. [laughs]. Maybe not equally, but in my mind it's only one more year.
G/O Media may get a commission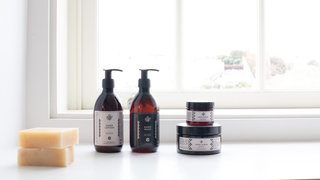 Exfoliate and Hydrate
The Handmade Soap Company
Just tell the Hollywood Foreign Press what's in your mind and heart, not what's in the schedule.