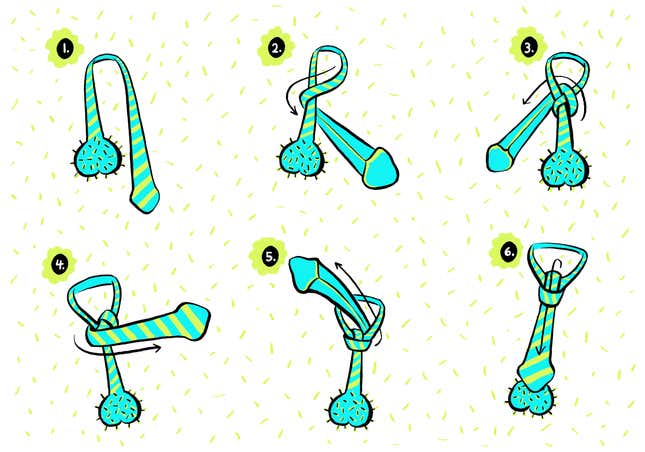 Are you a man who is constantly frustrated, but unsure where to channel that pent up energy? Do you feel like a force beyond your control is leading you astray, yet you refuse to ask for directions? Is your personal compass always pointing North, even when you're facing South? If you answered yes to any of these questions, we have a solution. Get over your dick!
Taylor Lautner Doesn't Even Remember Saying 'Bella! Where the Hell Have You Been Loca?'
Here are some helpful tips to avoid thinking exclusively with your penis.
1. LET GO OF LUST (PRACTICE SELF-LOVE):
Don't let lascivious feelings alter your decision-making skills. Controlling your natural (and sometimes disturbingly unnatural) urges is difficult! Staying horny doesn't help solve any problems, either. Don't let your boner fester.

2. STOP MAKING EXCUSES (FOR YOUR DICK):
Learn to take accountability for your own failings instead of blaming them on your dick. It doesn't have any agency; it can't make decisions. Own your mistakes and learn from them.

3. LISTEN TO OTHERS (NOT YOUR DICK):
Communication is key. Being a good listener can change your life. If you simply stop letting your dick do the talking and listen to what others want, you can avoid a lot of difficult situations. This skill can be used in daily interactions with friends, coworkers, acquaintances and romantic interests. (You should also apply this rule in bed.)

4. EDUCATE YOURSELF:
Read a book or newspaper. Visit an art museum. Go see an indie film at the IFC. Sign up for that workshop on the poetry of the former Yugoslavia. See beyond your dick.

5. SURPRISE SOMEONE SPECIAL:
Do you have a loved one in your life? A spouse or romantic partner? Plan a thoughtful surprise for them from the heart... not from your dick. It's nice to not think about yourself (or your dick) for once.

6. ADOPT A PET:
Not only does adopting a pet help stave away loneliness and depression, but you'll be saving a life as well. And, when you're feeling pent-up energy, caring for a dog is more productive than caring for your dick.

7. CALL YOUR MOM:
Instead of sliding into that girl's DMs or sending that late-night sext, consider reaching out to the woman who loves you unconditionally and who would never remind you of your needy dick: your mom. After all, it's thanks to your mother that you have your dick at all.

Tara Jacoby is the former Deputy Art Director for Gawker Media. You can now follow her work at Vocativ. She's also on Twitter, Tumblr, and Facebook.