On the heels of Robert Gates's announcement that "don't ask, don't tell" might be repealed, photographer Jeff Sheng is releasing a book of photos of gay service members. Their faces are hidden, because they still have to hide their orientation.
Ana Gasteyer Satirizes the Girl Boss in 'American Auto'
More specifically, Gates announced a year-long review of how the military might repeal the policy, because apparently asking people to die for their country is no big deal, but asking them to shower with an openly gay person is. Talk about the soft bigotry of low expectations. In a reversal of his earlier position, John McCain criticized the plan, saying "don't ask, don't tell," while not "ideal," "has been effective." As the BBC notes, "effective" apparently means, "leading to the discharge of 428 people in 2008, and 619 the year before that, from an already badly overstretched military."
But Jeff Sheng's work is about images, not numbers. Since last fall, he has been photographing gay men and women in the military as part of a project he calls simply "Don't Ask, Don't Tell." He uses camera angles, shadow, and sometimes the subjects' own hands to hide their faces, and asks them to pick a pseudonym and city that are personally meaningful to them to use as the image's title.
Back in November, Sheng told the LA Times, "I want to give an invisible community some visibility, but at the same time, to keep them invisible." This contradiction is evident in the photographs. Simply by being part of the project, these men and women are stepping forward. In one image, a woman embraces her partner in what becomes, when photographed, a public expression of love. Yet we can't see their faces, and they are pictured in what looks like a featureless motel room — Sheng sometimes meets his subjects at motels, presumably to help them preserve their anonymity. The men and women in "Don't Ask, Don't Tell" are proud enough of who they are to join the project, but the shadows covering their faces remind us that the military still treats them as though they should be ashamed. Sheng says he'll continue his project as long as the government continues its "review." Despite the beauty of some of his photos, let's hope he doesn't have to make too many more.
G/O Media may get a commission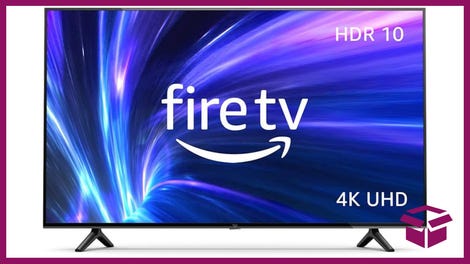 42% Off
Amazon Fire TV 50" 4K Smart TV
'Don't Ask, Don't Tell' Photography Project Continues As Military Leaders Mull Lifting Gay Ban [LA Times]
L.A. Photographer Documents U.S. Military's 'Don't Ask, Don't Tell' Policy [LA Times]
US Military Ban On Openly Gay Personnel 'Should End' [BBC]
McCain Appears To Shift On 'Don't Ask, Don't Tell' [Washington Post]
"Don't Ask, Don't Tell," Photobook Series By Jeff Sheng [DADTBook.com]