Donald Trump's new campaign chairman Stephen K. Bannon was an... interesting hire. At a time when the campaign claims to be "pivoting" towards a kinder, gentler campaign style and trying to woo black and Latino voters, hiring the guy who ran Breitbart News was a bold choice. Now, some other unexpected wrinkles are coming up this week as reporters vet Bannon, including a set of domestic violence charges in 1996 (eventually dismissed), and the fact that he claims to live in an empty house in Florida, slated for demolition.
Ana Gasteyer Satirizes the Girl Boss in 'American Auto'
Bannon, the former executive chairman of Breitbart News, was accused in 1996 of attacking his then-wife on New Years Day, the New York Post reported. The New York Times found police records indicating that Mary Louise Piccard called 911 from a home in Santa Monica she shared with Bannon and their infant twin daughters:
Police arrived to find Ms. Piccard visibly upset, with red marks on her neck and wrist, the report said. She told police that Mr. Bannon had spent the previous night sleeping on the sofa. The next morning, she said, the noise she made feeding their daughters and his refusal to provide a credit card for grocery shopping started a fight that spilled onto the driveway.

When Mr. Bannon attempted to leave in his car, Ms. Piccard spat at him. That's when Mr. Bannon became aggressive, she told police. He grabbed her wrist and then her neck, she said.
The case was dismissed because Piccard didn't show up for court. She claimed in divorce proceedings against Bannon that he had pressured her not to testify. From the NYT:
In court records, Ms. Piccard later claimed that Mr. Bannon instructed her to leave town to avoid testifying.

Mr. Bannon, she said, told her that "if I went to court he and his attorney would make sure that I would be the one who was guilty."

Mr. Bannon's lawyer, she said, "threatened me," telling her that if Mr. Bannon went to jail, she "would have no money and no way to support the children."

Ms. Piccard said that she complied, fleeing with the two children she shares with Mr. Bannon until his "attorney phoned me and told me I could come back."
G/O Media may get a commission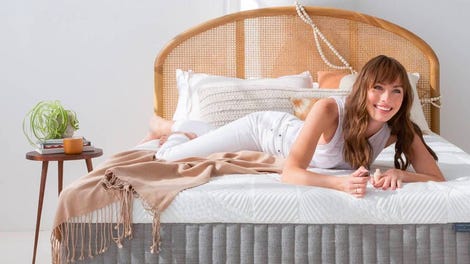 Sleep Sale
Sleep Sale - Brentwood Home
According to the Post, Bannon married Piccard three days before their daughters were born; she also claimed in court documents that he told her he would only marry her if the girls were "normal:"
"Bannon made it clear that he would not marry me just because I was pregnant. I was scheduled for an amniocentesis and was told by the respondent that if the babies were normal we would get married," Piccard claimed in a document.

"After the test showed that the babies were normal the respondent sent over a prenuptial agreement for me to review."
A representative for Bannon told the Post in a statement that he has a "great relationship" with his ex and daughters.
Meanwhile, here in the present, the Guardian reports that Bannon is currently registered to vote at an empty home in Miami-Dade County, Florida, a swing state. The property is empty, the owner told the paper, and slated for demolition. The Guardian reports that it's one of two houses in Florida that he's rented for his second ex-wife, Diane Clohesy, from whom he's been divorced for seven years.
Bannon doesn't appear to have ever lived at either house. He co-owns a condo in Los Angeles and, until he joined the Trump Train, hosted Breitbart News Daily, a radio show, seven mornings a week, live from either Washington D.C. or New York. A Bloomberg profile from 2015 noted that Bannon lived in the so-called "Breitbart Embassy," a mansion in D.C. that operated as the offices of Breitbart News.
A New York Times profile described Bannon as a man who "loves the fight," favoring a brash management style that one former employee described as "profanity-laced tirades." Now is a good time to mention that I attended a party at the Breitbart Embassy with former Jezebel managing editor Erin Gloria Ryan during last year's Conservative Political Action Conference, when Bannon was still heading Breitbart. He was a very polite host: he chortled when I told him I'd written a negative review of The Undefeated, a truly terrible film he made about Sarah Palin. I briefly attended Bannon's Breitbart party again this year, which was held at a hotel suite. Both events were among the weirdest nights of my life, and that is saying something.
In a speech yesterday, Hillary Clinton excoriated Donald Trump for aligning himself with the alt-right, using Bannon's hiring as her prime example.
"The de facto merger between Breitbart and the Trump Campaign represents a landmark achievement for the 'Alt-Right,'" she said. "A fringe element has taken over the Republican Party."
Update, 11:45 a.m.:
Politico reporter Marc Caputo says Bannon never actually voted in Florida.
That's not quite the point of the story, but meanwhile conservative commentator and columnist A.J. Delgado is disputing it a different way, saying she visited Bannon at that home several times.