Donald Trump, the embodiment of a long and thunderous fart in a stalled elevator, is continuing his depressingly quick recovery from Pussygate. On Tuesday, he rolled out a brand-new anti-Clinton attack ad, which paints her as both an active threat to global security and so sick she's basically dead.
The ad is literally called "Dangerous," because why try for subtlety right now?
"Our next president faces daunting challenges in a dangerous world," the voiceover guy intones. "Iran promoting terrorism, North Korea threatening, ISIS on the rise, Libya and North Africa in chaos." Here, images of ISIS prisoners kneeling and faceless soldiers marching is interspersed with an image of Clinton coughing, followed by one of her being helped up some stairs and in the infamous footage of her collapsing at the 9/11 memorial because she had pneumonia.
"Hillary Clinton failed every single time as Secretary of State," the voiceover adds somberly. "Now she wants to be President. Hillary Clinton doesn't have the fortitude, strength or stamina to lead in our world. She failed as Secretary of State. Don't let her fail us again."
The ad closes with a shot of Donald Trump, and this very optimistic chyron:
G/O Media may get a commission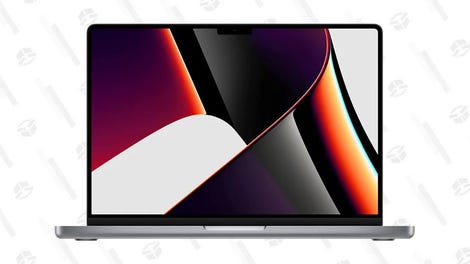 Save $300
2021 14" 1TB MacBook Pro
As our own Stassa Edwards has pointed out, painting Hillary Clinton as hopelessly sick and yet deeply evil plays with time-honored, very effective stereotypes. Clinton is both a criminal and a madwoman, a sinister mastermind who literally has people killed, if you listen to some on the right, and someone barely able to stir from her sickbed. Women really can do it all!
The Trump campaign says the ad will be "heavily rotated in battleground states," as if things weren't bad enough for those folks already at this point in the election.