At a joint press conference with British Prime Minister Theresa May—whose name was spelled wrong three times by the White House ahead of her sit-down meeting with Trump—our president emphasized the importance of the U.K.-U.S. relationship. "This is our first visit. So. Great honor," he said, as he read an opening statement closely from a piece of paper, appearing to hold a finger on the page.
In response to a question about potential shifts in the U.S. relationship with Russia and talk of potentially lifting sanctions, which has sent Sen. John McCain into a fit (though McCain, rather mysteriously, also recently announced that he'll vote to confirm Rex Tillerson), Trump replied: "As far as the sanctions, it's too early to be talking about that." Kellyanne Conway, meanwhile, has been talking about it.
Here's what he said next, and really, who can say what it means?
"We look to have a great relationship with all countries, ideally, unfortunately that won't necessarily happen, unfortunately probably won't happen with many countries, but if we could have as we do with Prime Minister May, and the relationship we've all developed, and even the short relationship that we've just developed, just by being with each other, and have lunch, and—we've really had some very interesting talks, some very productive talks. But if we can have a great relationship with Russia, and with China, and with all countries, I'm all for that, that would be a tremendous asset."
Trump went on to claim credit for predicting Brexit, call the U.S. border with Mexico "soft and weak," and lament the U.S. losing "vast amounts of companies." On Putin? "I don't know the gentleman." On whether Britain can trust a leader whose positions are constantly changing? "I really don't change my position that much." When asked about the apparently-shifting U.S. relationship with Mexico, Trump, whose administration recently sprinted back a suggestion to heavily tax imports from Mexico, claimed: "We're no longer going to be the country that doesn't know what it's doing."
Prime Minister May called on a reporter from BBC News, who noted Trump's past statements about torture and banning Muslims and punishing women for getting abortions, and asked him, "What do you say to those at home who are worried about your views, and worried about you becoming the leader of the free world?"
G/O Media may get a commission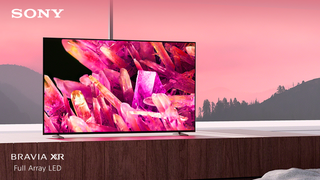 $400 off
Sony 55 Inch 4K Ultra HD TV X90K Series
Trump turned to May, half-joking: "This was your choice of a question? There goes that relationship!" Trump responded only partially, saying that "I don't necessarily agree" that torture doesn't work, but that he will allow Secretary of Defense James Mattis to "override because I'm giving him that power."
When asked what "the daughter of a vicar" might have in common with a Trump, May—who oversees the lowest corporation tax rate among G20 countries and might make it lower, and whose companion on the stage cheated his way out of paying contractors for decades—said:
"I think one of the things we have in common is that we want to put the interests of ordinary working people right up there center stage."