Shoulda had a Diet Dr. Pepper today, but unfortunately I did not.
Here's all the shit we couldn't cover today:
Donald Trump is "very surprised" that his idiot son Don Jr. has been subpoenaed by the Senate Intelligence Committee. "My son is a good person. My son testified for hours and hours. My son was totally exonerated by Mueller, who frankly does not like Donald Trump, me, this Donald Trump," Trump said. It should be pointed out that Don Jr. was not interviewed by Robert Mueller's team. The decision by Senate Republican Richard Burr, who chairs the Intelligence Committee, to issue the subpoena has pissed off other Republicans. Burr doesn't seem all that enthused either? "Maybe you didn't hear me when I said I'm not going to talk to you guys right now," Burr told reporters on Thursday. [Politico/Washington Post/Politico]

Is Nancy Pelosi becoming more open to the idea of impeachment? [Washington Post]
The Justice Department has charged a former NSA intelligence analyst over leaking classified documents to a reporter, likely Jeremy Scahill of the Intercept. [NPR]
About 13,000 asylum seekers at the border are on waiting lists to claim asylum, due to the Trump administration's practice of severely limiting how many claims it will process each day. [Associated Press]
Students remembered their classmate Kendrick Castillo, who was shot and killed by one of two teenaged attackers, both fellow students, in the shooting on Tuesday at STEM School Highlands Ranch in Colorado. "He cared about his faith and his family and friends more than himself or anything," said Castillo's friend Sara Stacks. "He was always the first to help when anyone needed it; if it was a friend to talk to, someone to hold the door, or carry something, he would always help no matter what." On Wednesday night, some students at the school protested a vigil held in Castillo's honor, saying that "the vigil had been politicized and failed to include their voices." [New York Times/Associated Press]

Representative Ilhan Omar continues to show that she gets it.
And her fellow Congressperson Alexandria Ocasio-Cortez and Senator Bernie Sanders are planning to introduce legislation that would cap credit card interest rates at 15 percent. [Bloomberg]

Stacey Abrams is still considering tossing her hat in the ring for the Democratic presidential nomination.
Joe... not a good look to call people who are attempting to claim asylum a "horde."
G/O Media may get a commission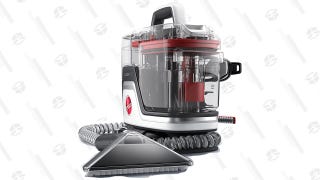 Save $10
Hoover CleanSlate Plus Carpet & Upholstery Cleaner
Here are some tweets the president was allowed to publish:
A rare reprieve! There have been no tweets today from our president as of 5:12 p.m. Eastern Standard Time.
This has been Barf Bag.