Let's just get this over with, shall we?

Trump wants to remove the security clearances of several former national security officials because they dared speak of the Russia investigation in what Press Secretary Sarah Sanders described as an "inappropriate" manner. You know, casually punishing political rivals over petty shit, no big! [CNN]

U.S. Interior officials accidentally leaked documents revealing that they attempted to downplay the importance of the nation's most precious national monuments and public lands. From the Washington Post: "The thousands of pages of email correspondence chart how Interior Secretary Ryan Zinke and his aides instead tailored their survey of protected sites to emphasize the value of logging, ranching, and energy development that would be unlocked if they were not designated as national monuments." Oh! [Washington Post]
Senator Rand Paul is still pretending that he's not going to vote wit Republicans when time comes to back Brett Kavanaugh's Supreme Court nomination. [Politico]
You can buy Melania salami in Slovenia. [NYTimes]
To the surprise of no one with a lick of goddamn sense, ending DACA will fuck over the economy of Texas. [Texas Monthly]
In other nauseating immigration news, an undocumented mother of three voluntarily showed up at a Florida jail to pay a traffic ticket. She ended up being detained by ICE. [Miami New Times]
LOL this woman trolled Fox News:
Here are some tweets the president was allowed to publish:
G/O Media may get a commission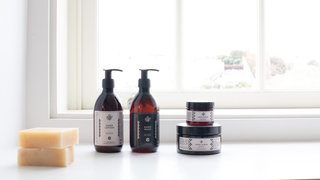 Exfoliate and Hydrate
The Handmade Soap Company
This has been Barf Bag.