In 1989, days after news broke about the assault and rape of a white female jogger in Central Park, Donald Trump took out full-page advertisements in four New York City newspapers, including the New York Times, calling for the return of the death penalty. "I want to hate these muggers and murderers," Trump's ad read. "They should be forced to suffer and, when they kill, they should be executed for their crimes. They must serve as examples so that others will think long and hard before committing a crime or an act of violence." Five teenagers (four black and one Latino) had been arrested and charged in connection with the attack—unjustly, as it would turn out.
After years in prison, the so-called Central Park Five's convictions were vacated, after DNA evidence identified another man, Matias Reyes, as the attacker, and he confessed. In 2014, New York City paid the wrongly accused men $41 million in a settlement agreement, though Mayor Michael Bloomberg had fought to get the lawsuits dismissed for years.
"We're grateful that Bill de Blasio came in and made it happen," Raymond Santana, who was imprisoned for just under seven years, along with Antron McCray, Kevin Richardson and Yusef Salaam, told the New York Daily News after the settlement agreement was approved. (Kharey Wise served nearly 13 years.) "It was always about closure," Santana said, "so everyone can know without a shadow of a doubt that we're innocent."
G/O Media may get a commission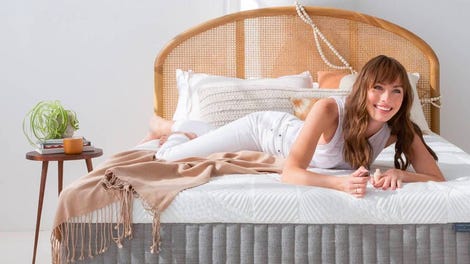 Sleep Sale
Sleep Sale - Brentwood Home
And yet, Donald Trump has continued to insist that the Central Park Five did in fact commit the crimes they were accused of that day.
"They admitted they were guilty," Trump told CNN in a statement just this week. (In fact, none of the five teenagers—who were beaten and deprived of sleep—admitted to committing the crime themselves; rather, they each accused the others of having done the deed, thereby implicating the whole group.) "The police doing the original investigation say they were guilty. The fact that that case was settled with so much evidence against them is outrageous. And the woman, so badly injured, will never be the same."
As baffling as Trump's defiance in the face of reality may seem, his continued belief in the false, racist narrative presented by the New York City Police Department (and perpetuated by the New York City papers) is perfectly logical when understood as being coextensive with his equally baffling and defiant belief in himself and his ability to judge others with impunity. From the Guardian, last year:
[Yusuf] Salaam, now 41, cannot remember exactly where he was when he first saw the ads. He had no idea who Trump was. "I knew that this famous person calling for us to die was very serious," he recalled.

"We were all afraid. Our families were afraid. Our loved ones were afraid. For us to walk around as if we had a target on our backs, that's how things were."

All five minors had already been paraded in front of the cameras and had their names and addresses published, but Salaam said he and his family received more death threats after the papers ran Trump's full-page screed. On a daytime TV show two days later, a female audience member called for the boys to be castrated and echoed the calls for the death penalty if Meili died. Pat Buchanan, the former Republican White House aide, called for the oldest of the group, Wise, to be "tried, convicted and hanged in Central Park by June 1".

"Had this been the 1950s, that sick type of justice that they wanted – somebody from that darker place of society would have most certainly came to our homes, dragged us from our beds and hung us from trees in Central Park. It would have been similar to what they did to Emmett Till," Salaam said.
The boys all plead not guilty at trial the following year, and the jury found all five guilty.
"He poisoned the minds of many people who lived in New York and who, rightfully, had a natural affinity for the victim," Michael Warren, a New York civil rights lawyer who came to represent the Central Park Five, told the Guardian. "Notwithstanding the jurors' assertions that they could be fair and impartial, some of them or their families, who naturally have influence, had to be affected by the inflammatory rhetoric in the ads."
Last year, Trump criticized de Blasio for the $41 million settlement, calling it a "disgrace" in an op-Ed for the Daily News. "They should be very thankful I wasn't mayor because they wouldn't have gotten a dime."