Sometimes I have to remind myself that Rand Paul is a real person and that's his name.
Here's all the shit we couldn't cover today:
Donald Trump signed an executive order that will erode health insurance coverage on the Affordable Care Act. The executive order tells federal agencies to look at closely association health care plans, plans formed through small businesses who have pooled together to purchase insurance, as well as short-term insurance. Ostensibly Trump is looking to lower the costs for small businesses so that they can purchase cheaper insurance as well as potentially expand short-term insurance, which is not regulated by Obamacare. "Critics," the Washington Post reports, "who include state insurance commissioners, most of the health-insurance industry and mainstream policy specialists, predict that a proliferation of other types of coverage would have damaging ripple effects: driving up costs for consumers with serious medical conditions and prompting more insurers to flee the law's marketplaces." The White House, as well as the president's allies in this order, argue that he is taking the steps to dismantle Obamacare since the Congress was unable to pass a series of repeal and replace bills. [Washington Post]

The Women's March announced that Senator Bernie Sanders would deliver the opening-night speech at their convention later this month. A lot of women were angry! [USA Today]

The Women's March clarified that they had invited numerous women to deliver the address, including Senators Warren, Gillibrand and Harris, but none were able to do so. Representative Maxine Waters will deliver the keynote address. [Twitter]

Our old friend Paul Ryan begged Republicans to stay together on tax reform. An army of lobbyists will come to protect special interest provisions and to derail tax reform," Ryan said in a speech at the Heritage Foundation. "When it does, we must be able to count on the foot soldiers of the conservative movement to see this through." [Politico]

Here's a weird video of Ryan being a normal guy, drinking beer and explaining tax reform to women. It's all very believably natural. [The Skimm]

John Kelly says that despite rumors, "I'm not quitting, I'm not getting fired." Me neither. [The Guardian]

The Secret Service has paid at least $63,700 to Mar-a-Lago. According to a report, the expenses were "categorized as hotel costs on government expense forms." [CNN Money]

Remember Kim Davis? [New York Times]

Here are some tweets the president was allowed to publish:
G/O Media may get a commission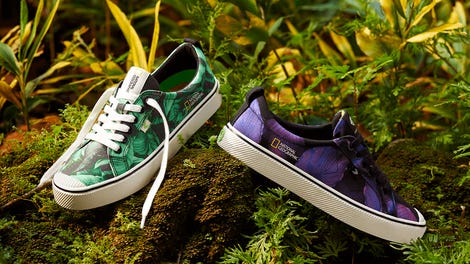 New New New
Cariuma + National Geographic
This has been Barf Bag.