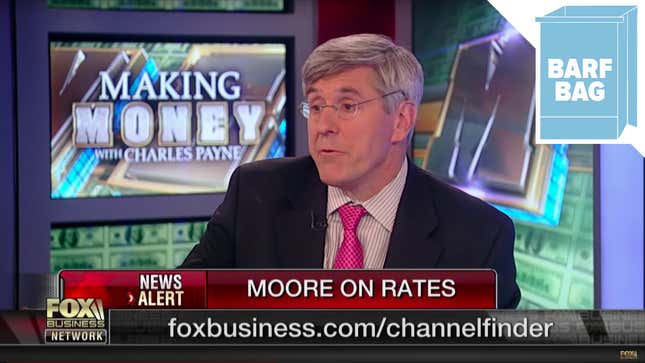 Today is Monday, I think?
Here's all the shit we couldn't cover today:
Former Trump campaign adviser Stephen Moore, one of Trump's nominees to serve on the Federal Reserve Board, once wrote that women should be banned from refereeing sporting events and that women athletes who criticize the wage gap want "equal pay for inferior work." He told CNN that the writing was "a spoof" and he has "a sense of humor." He sounds hilarious! [CNN]

I don't understand why Elizabeth Warren wrote about "Game of Thrones," but she did. [The Cut]
Mitch McConnell reveals, finally, that he is the Grim Reaper. [CNN]
Stephen Miller is deeply evil. [Politico]
The Supreme Court will take on three cases that will determine whether federal law prohibits employers from discriminating against gay and transgender people. [Bloomberg]
The Trump Organization is suing House Oversight and Government Reform Committee chair Rep. Elijah Cummings in response to a subpoena seeking financial records. [NBC News]
United States Citizenship and Immigration Services has been denying immigrants citizenship for smoking pot in states where it's legal. [Quartz]
High school journalists schooled Betsy DeVos. [Washington Post]
The IRS has failed to monitor a loophole that allows wealthy, politically-motivated donors to send money to nonprofits. [ProPublica]
Taylor Lautner Doesn't Even Remember Saying 'Bella! Where the Hell Have You Been Loca?'
Here are some tweets the president was allowed to publish:
This has been Barf Bag.