Today, in news that should be surprising to no one: Donald Trump Jr. knew prior to his meeting with a Kremlin-affiliated Russian lawyer that the Russian government sought to aid Trump senior's campaign.
According to the New York Times, British publicist and former tabloid writer Rob Goldstone orchestrated the June 2016 meeting and sent an email to Trump Jr. delineating the lawyer's affiliation with the Russian government. While Goldstone does not elaborate on the Kremlin's larger scheme to help the Trump campaign, it's easy enough to extrapolate. If a Kremlin proxy was offering dirt on Hillary Clinton, the Russian government had a vested interest in the victory of her opponent.
On Sunday, Trump Jr. released a statement acknowledging his interest in obtaining information damaging to Clinton. He did not, however, specify his awareness of the lawyer's Kremlin ties—or that he knew of them before the meeting took place.
Trump Jr. met with the lawyer less than a week before reports that Russian hackers had accessed the Democratic National Committee's servers and released thousands of emails. However, there's currently no evidence that the information shared with Trump Jr. was relevant to the DNC hack.
G/O Media may get a commission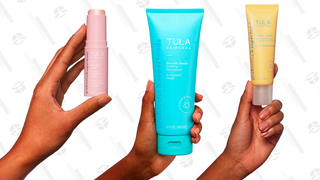 The Justice Department will assess the significance of Goldstone's email in the context of their investigation into the election. U.S. intelligence agencies have already determined that the Kremlin sought to hand the election to Trump. What's absurd is that so much additional hand-wringing and puttering around is deemed necessary. Or rather, it would be absurd if facts and legality carried any weight in this administration.
Still, some argue that Trump Jr. is innocent of collusion—for instance, his lawyer, Alan Futerfas.
"In my view, this is much ado about nothing," Futerfas told the Times on Monday. "During this busy period, Robert Goldstone contacted Don Jr. in an email and suggested that people had information concerning alleged wrongdoing by Democratic Party frontrunner, Hillary Clinton, in her dealings with Russia. Don Jr.'s takeaway from this communication was that someone had information potentially helpful to the campaign, and it was coming from someone he knew. Don Jr. had no knowledge as to what specific information, if any, would be discussed."
Deputy press secretary Sarah Huckabee Sanders also claimed during a briefing that "the president's campaign did not collude in any way. Don Jr. did not collude with anybody to influence the election. No one within the Trump campaign colluded in order to influence the election."
Also in attendance at the June 2016 meeting were Trump's son-in-law, Jared Kushner and then-campaign chairman Paul J. Manafort. However, Kushner's representatives deferred questions regarding the meeting to Trump Jr., and Manafort's spokesperson abstained from comment.
Meanwhile, Trump Jr. has spent the day denying any illegal doings on Twitter, and retweeting every right-wing article that supports him.
"Obviously." Very cute eye-roll, Don. Must be nice to ignore the demonic circus wreaking havoc from sea to shining sea.