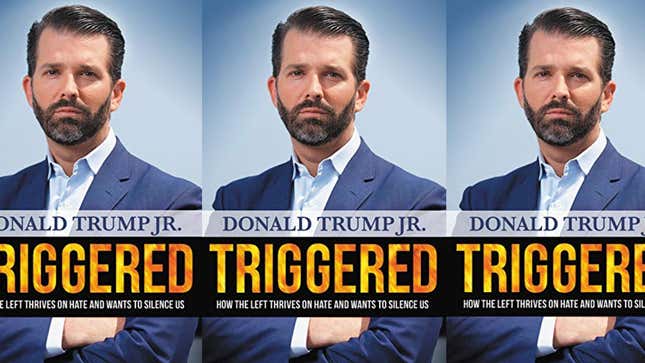 Donald Trump Jr.'s upcoming book now has a publishing date (November 5), a title (Triggered: How the Left Thrives on Hate and Wants to Silence Us), and a cover.

According to Don Jr.'s publisher Center Street Books, the conservative imprint of Hachette Book Group, Triggered "will expose all the tricks that the left uses to smear conservatives and push them out of the public square," and will include his thoughts on "his childhood summers in Communist Czechoslovakia that began his political thought process" as well as his musings about "working on construction sites with his father."
Kimberly Guilfoyle, Don Jr.'s girlfriend, has reportedly seen him "working" on his book "for months":
What I most want to know, however, is the answer to this searing question: how much is he clenching his butt in the photo that adorns the book's cover?
Is he clenching a lot? A little? Looks like a lot to me, but please let me know what you think in the comments.