Please enjoy the semi-fresh air while you can, before CO2 emissions and smog pollution choke us all to death.
Here's all the shit we couldn't cover today:
In a meeting with German Chancellor Angela Merkel on Friday, Trump—who has claimed, without evidence, that Obama wiretapped the Trump Tower—joked that former President Obama wiretapped her phones, too. "As far as wiretapping I guess by this past administration, at least we have something in common, perhaps," he said to Merkel. The weird joke was an apparent reference to the 2010 revelation that the NSA, under Obama, tapped phones of Merkel and other world leaders.

On the eve of St. Patrick's Day, Irish Prime Minister Enda Kenny shared his thoughts on the value of immigrants with Trump. [The Guardian]

Trump recited his favorite "Irish proverb." What a nice moment! Except that the proverb wasn't Irish at all. It's a poem by a Nigerian writer. [BuzzFeed]
A Secret Service agent's laptop, which reportedly contains the floor plans and evacuation protocol for Trump Tower, was stolen from the agent's car in Brooklyn. [CNN]

Secretary of State Rex Tillerson, who has zero foreign policy or diplomacy experience, is recklessly provoking North Korea. Tillerson said that "the policy of strategic patience has ended" and pre-emptive military action "is on the table" if the US feels threatened. Great, just great. [CNN]

Preet Bharara, the US Attorney who was fired after he defied Trump's order to resign, was reportedly investigating Trump's newly instated Department of Health and Human Services Secretary Dr. Tom Price for corruption at the time of his ouster. [ProPublica]

Kellyanne Conway's husband, George Conway III, might become the new head of the Justice Division's civil department. [Wall Street Journal]

Like an entitled asshole who just won't get the hint, the Trump Administration has filed an appeal against the decision to blocking the second travel ban. [Washington Post]

Mexican company Cemex, the largest cement maker in North America, refuses to help Trump build his stupid border wall. Also, if you really thought Mexico was going to pay for that shit, you're a chump. [Quartz]

Donald Trump's Supreme Court nominee Neil Gorsuch is pretty friendly with Republican activist Hans von Spakovsky, a controversial lawyer who has championed voter suppression efforts. [The Nation]

Here are some tweets that the president was allowed to publish:
G/O Media may get a commission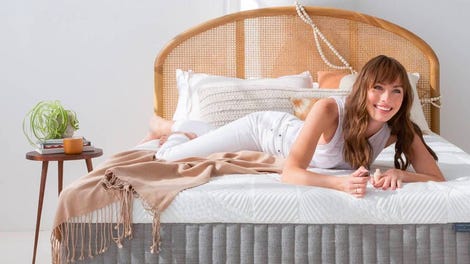 Sleep Sale
Sleep Sale - Brentwood Home
This has been Barf Bag.