Eighties sitcom star and whinging conservative Scott Baio has kept up a pretty full schedule since his wife Renee Baio called Jezebel staffers "lesbian shitasses" back in 2010.

Baio says that he has met Donald Trump—whom he endorsed in March, saying "He speaks like I speak, he communicates with people very well"—a total of six times, most recently at a dinner last evening, where an excited Renee and Scott took a bunch of very up-close photos of Trump while they were speaking with him. Recently, Bio got into a fight with Starbucks after a barista refused to say the name "Trump," which he evidently gave them rather than his own. In May, he told Greta Van Susteren that Jennifer Lawrence, who does not support Trump, needs to "read a book or two" (he did not clarify which books).
Baio tweeted that he would be making an appearance at the Republican National Convention as a California delegate, but Renee is battling meningioma brain tumors:
G/O Media may get a commission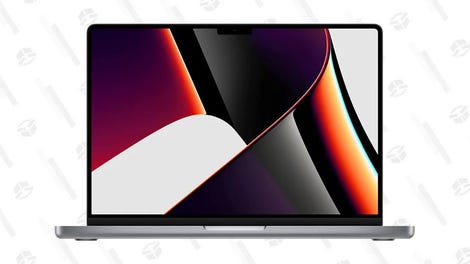 Save $300
2021 14" 1TB MacBook Pro
(UPDATE: Scott Baio announced over the weekend that he will be speaking at the RNC.)
Scott Baio presumably loves Donald Trump because he takes issue with immigrants, minorities, and poor people (and thinks Hillary Clinton is a cunt) but more broadly, it would seem, because Donald Trump and this election in general has given Scott Baio's Twitter feed—once a more generalized spew of racism and self-aggrandizement—newfound purpose.
Just this week, Baio was gifted with a pair of Donald Trump socks, which he will likely wear quite often:
Last week, he floated an interesting argument against the #BlackLivesMatter movement:
On July 5, Scott Baio really showed Montel Williams what's what:
On June 28th, he corrected someone's grammar:
Most recently, however, Scott Baio, age 55, got into a fight with a teen. To be fair, the teen in question—16-year-old Aramis Knight, who stars on AMC's Into the Badlands —started it. Knight tweeted that Baio and Mrs. Baio are ignorant, and asked how they could call themselves Christians after getting into so many fights with liberals on Twitter.
Scott Baio was not going to let this one slide.
Then Knight returned fire with some brags of his own:
Renee made the unlikely prediction that Knight could be auditioning for Scott someday, and pointed out that she has "Chanel bags older than" Aramis Knight, a 16-year-old with whom she was currently fighting on Twitter.
Then Baio took a moment to compare his life and career to that of his new online nemesis:
"BLOCK THE SOB. .HES USING. U FOR HIS OWN PUBLICITY.. SEND HIM 2 HELL," @MAKEAMERICAGR14 implored Baio.

Scott Baio did not send Aramis Knight to hell, because we are all already there.
---
Images via Getty, screenshot.