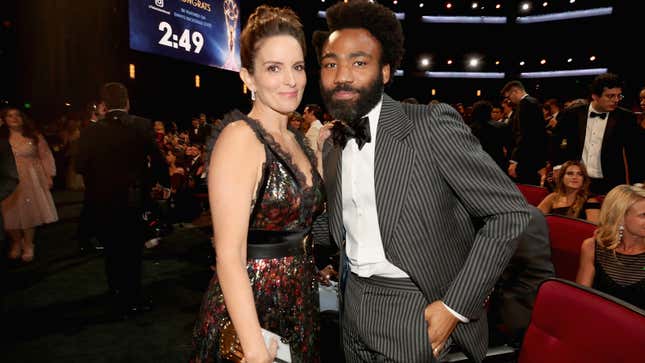 A new Donald Glover quote is making the rounds after a GQ profile of the multi-hyphenate entertainer was published Tuesday. In it, Glover recalls his first TV-writing gig, for the Tina Fey-created 30 Rock, when he was still in college. "There is no animosity between us or anything like that, but [Tina Fey] said it herself…. It was a diversity thing," said Glover.
Lucien Laviscount Dishes on Red Flags and Romantic Deal Breakers
"There is no animosity between us or anything like that" is a good way to suggest there may in fact be animosity—at least on paper! It's like prefacing something offensive by saying, "No offense." However, the would-be revelation from this new GQ profile has actually been in the ether for years already and was confirmed publicly by Fey, which suggests that there actually isn't animosity. Or at least if there is, it's not new animosity. From a 2018 New Yorker profile of Glover:
He noted that his own skin color had surely influenced his career, beginning with his first job, as a writer on 30 Rock. "I wondered, Am I being hired just because I'm Black?" Tina Fey, the show's creator and star, told me that the answer was in large part yes; she admired Glover's talent but hired him because funds from NBC's Diversity Initiative "made him free."
In Fey's 2011 memoir Bossypants, she wrote: "Donald was our only African-American writer at the time, but his real diversity was that he was our only 'cool young person' who could tell us what the 'kids were listening to these days.'" Determining Glover's "real diversity" (and concluding it wasn't his Blackness) is soooo Fey, but the point is that this conversation that's now happening has been happening. Regarding Fey's admiration of Glover's youth, she wrote his Time 100 blurb, in which she said: "Now Donald is serving you best-case-scenario millennial realness."

In the GQ profile, Glover also recounted his anxiety about writing for 30 Rock. "It definitely didn't feel like I was supposed to be there," he said. "I used to have stress dreams every night where I was doing cartwheels on the top of a New York skyscraper with the other writers watching me." He added that black-ish creator Kenya Barris was also up for the gig. "I didn't know it was between me and him until later. He hit me one day and he was like, 'I hated you for years!'" Glover gold GQ.
---