The day has finally arrived—a redacted version of Special Counsel Robert Mueller's report is out. And while Mueller declined to bring any obstruction of justice charges against Donald Trump, despite the numerous times that he attempted to interfere with the investigation, he did write that "while this report does not conclude that the President committed a crime, it also does not exonerate him," and opens the door for Congress to continue to look into how Trump maybe obstructed the investigation.

In short, this isn't going to end anytime soon.
As a service to you, our devoted readers, we combed through the hundreds of pages of the report to present you the pettiest parts.
The Special Counsel ultimately felt that Don Jr. was too dumb to try to conspire with Russia:
G/O Media may get a commission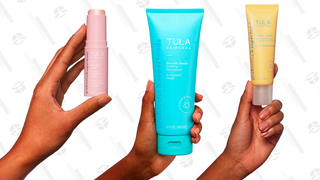 Don Jr. also doesn't know how "off the record" works:
Trump said "I'm fucked" and "This is the worst thing that ever happened to me" when he learned that Robert Mueller was appointed to investigate Russian interference and possible collusion:
Trump loves to pretend like he's an extra in a Godfather remake:
Former White House Counsel Don McGahn quit because the president wanted him to "do crazy shit:"
Trump yelled "I don't have a lawyer" when he had a lawyer:
Melania only appears once:
Sergey Gorkov, the head of the Russian government-owned bank Vnesheconombank, gave Kushner literal dirt:
Michael Cohen is not great at internet searching:
Lawyers don't take notes, according to Donald Trump:
Sarah Sanders got caught in a lie:
Pee tape?
We will continue to update this post as we read more.